Casters are offered with attachable brake kit.
Press Release Summary: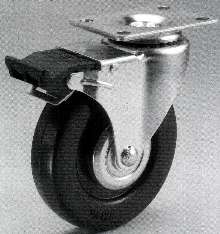 Casters in TP5000 Series are available with attachable total lock brake system, which locks down both wheel and swivel when user steps on pedal. Designated TP5000-SWB, kit allows end user to add total lock at their convenience by slipping over trailing edge of caster wheel and bolting in place by wheel axle. To accept attachable brake, TP5000 Series casters include serrated lower raceway. Standard Top Lock Brake system is also available.
---
Original Press Release:
Triopines Casters Introduces New TP-5000-SWB Attachable Total Lock Brake Kit

February 2, 2004, Los Angeles, California -- Triopines U.S.A. Inc., manufacturer of a wide variety of casters and wheels, announces the release of its new attachable total lock brake system for the Triopines TP5000 Series.

The total lock brake locks down both the wheel and the swivel with the step on a small pedal. Although total lock casters have long been available in the marketplace, including several models from Triopines, the standard total lock is built into the caster. The TP5000-SWB is innovative because it allows the end user to add the total lock at their convenience.

The TP5000-SWB Kit slips over the trailing edge of the caster wheel and is bolted in place by the wheel axle. Its simplicity and convenience will make the kit extremely popular in the material handling, food service, electronic, medical and hospitality service industries.

To accept this attachable brake, the TP5000 Series -- the most popular caster in the Triopines line -- had to be slightly re-designed, including the addition of a serrated lower raceway. The design changes are minimal, and the TP5000 retains all of the features that made it one of the most popular casters in the United States. Even the old standard Top Lock Brake system is still available.

The add-on price of the TP5000-SWB Kit is extremely low, coming in at under $4.00 list price -- a substantial savings over traditional total lock casters on the market, which can cost $40 or more.

These casters are being introduced at the National Design Engineering Show in Chicago, February 23-26, at the Triopines booth -- #3656.

Triopines is one of the most popular brands of casters and wheels in North America, with six sales offices and three fully-stocked warehouses. Triopines Casters are manufactured in Seoul, South Korea, and its factory is ISO 9001:2000 Certified.