Casters are designed to move ISO freight containers.
Press Release Summary: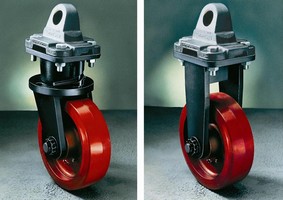 Suitable for moving empty or evenly loaded containers up to 40 ft in length, extra-heavy-duty Towcasters are intended for power towing up to 5 mph. They are offered in sets of 4, 2 swivel and 2 fixed casters, and feature polyurethane-on-cast-iron wheels, locking screws, lifting handle, and ratchet spanner. Offered in 2 sizes, casters come with wheel diameters of 10 and 12 in. with load capacities of 22,000 and 26,400 lb, respectively.
---
Original Press Release:
Revvo Caster Introduces New Towcasters for Moving ISO Freight Containers
Capacities to 26,400 lbs. - eliminates the need to use expensive moving equipment. (MAY 2007) - The Revvo Caster Company, Inc., Buffalo, New York announces the introduction of its new Towcasters to move ISO freight containers quickly and easily without using expensive equipment such as cranes, gantries, or side-loading forks. The extra-heavy-duty casters are provided in sets of four, two swivel and two fixed casters, and feature rugged polyurethane-on-cast-iron wheels. Towcasters are available in two sizes with wheel diameters of 10 inches and load capacities of 22,000 lbs., and 12-inch wheel diameters with 26,400-lbs. load capacities. According to Revvo Caster, one person can install a set of Towcasters on a container following simple instructions provided by the company. New Towcasters are designed for power towing up to 5 mph and are suitable for moving empty or evenly loaded containers up to 40-ft. in length. They are a low-cost solution for container manufacturing, repairing, and marshalling for loading and unloading. The company states that Towcasters economize storage space, allowing containers to be maneuvered and parked away from the lifting facility. Since there are no protruding parts, containers can be positioned close together without damage. Complete Towcaster sets include four extra-heavy-duty casters with locking screws, a lifting handle, and a ratchet spanner. (The accessories are also available as spare parts.) The 10-inch diameter Towcasters have a tread width of 3 inches and mounting height of 15-¾ inches. The 12-inch diameter Towcasters have a tread width of 4 inches and mounting height of 17-7/8 inches, Revvo states. The patented Towbar is sold optionally in sets of two with new Revvo Towcasters. It enables towing by tractor, fork truck, or other type of towing vehicle, according to the company. The Towbar measures 8 feet long and fits securely into the ISO container corner brackets immediately above the swivel Towcasters. The Towbars attach to the towing vehicle using standard link pins up to 1-½" diameter (not supplied). For additional information, contact The Revvo Caster Company, Inc., 2420 North America Drive, West Seneca, NY 14224. Phone: 716-675-9609. Fax: 716-677-2363. Toll-Free: 1-888-883-3596. Email: info@revvocaster.com. www.RevvoCaster.com. For specific product information or to download a PDF file, visit: www.revvocaster.com/flex_pgs/flex_sp.htm Note: The Revvo Caster Co., Inc. is a Colson Associate company. Please address reader service inquiries to the above address to: John Sowinski, Sales Manager, The Revvo Caster Co., Inc. (E-mail reader service inquiries to jsowinski@revvocaster.com)
Contact This Company Download Spec Sheet
More from Material Handling & Storage