Casters and Wheels offer load capacities from 30 to 10,000 lbs.
Press Release Summary: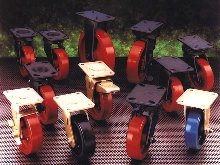 Flexello casters are offered in wheel diameters from 1 5/8 to 16 in. with wheel materials of nylon, rubber tire, cast iron, polyurethane, Flexello Superthane, and Flexello Polynyl-Injection. Several casters feature kingpinless design. Applications include furniture, medical equipment, retail displays, cargo handling, and material handling applications.
---
Original Press Release:
Revvo Introduces Flexello Line of Casters and Wheels to its Range of Light, Medium and Heavy-Duty Casters and Wheels

(July 2002) - The Revvo Caster Company, Inc., West Seneca, New York announces the introduction of the Flexello line of casters and wheels to the company's range of light, medium and heavy-duty casters for industrial and OEM products, furniture, medical
equipment, retail displays, cargo handling and material handling applications.

Flexello casters from Revvo are available in load capacities from 30 lbs. to 10,000 lbs. and in wheel diameters from 1-5/8 inches to 16 inches. Wheel materials include nylon, rubber tire, pneumatic, cast iron, polyurethane, Flexello Superthane and Flexello Polynyl-Injection. Several of the Flexello casters feature a rugged, kingpinless design. Typical accessories and options indude truck locks and expanding plugs, according to
Revvo Caster.

For a free product bulletin and additional information, contact The Revvo Caster Co., Inc., 2440 North America Drive, West Seneca, NY 14224. Phone: 716-675-9609. Fax: 716-677-2363. Toll-Free: 1-888-883-3596. E-mail: revvoinc@msn.com. URL: www.RevvoCaster.com