Cast Steel Flanged Gate and Swing Check Valves meet ASTM A216 WCB standards.
Press Release Summary: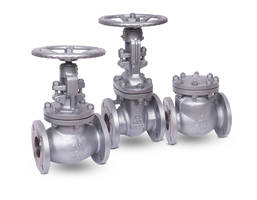 150 lb. Cast Steel Flanged Gate and Swing Check Valves are offered in sizes ranging from 1/4 up to 2 in. with flanged ball valves from 1 to 6 in. 400CSF Gate Valves and 422CSF swing check valves come with bolted bonnet whereas 405CSF Globe Valves feature outside screw and yoke. Units offer maximum pressure and temperature of 285 PSI and 1000ºF respectively.
---
Original Press Release:
Matco-Norca Offers Cast Steel Flanged Gate & Swing Check Valves for Petroleum Use Applications
As part of its expanded Industrial products line, Matco-Norca now offers 150 lb. Cast Steel Flanged Gate, Globe and Swing Check Valves in a range of sizes.
These heavy-duty valves have a maximum pressure of 285 PSI and maximum temperature of 1000ºF and are available in sizes 2" to 12."
They conform to ASTM A216 WCB and oil & gas application requirements of NACE MRO175.
400CSF Gate Valves feature a bolted bonnet and conform to the API 600 standard for petroleum refinery use and related applications. 405CSF Globe Valves come with an outside screw and yoke. 422CSF Swing Check Valves also feature a bolted bonnet.
Industrial Valves from Matco-Norca
Industrial valves include a wide range of stainless steel and carbon steel one, two and three-piece ball valves in both full and reduced port, two piece, full port forged lead free brass ball valves and flanged ball valves, Class 800 forged gate valves, globe valves and check valves, 150 lb. cast steel gate, globe & check valves, and 316 stainless steel gate, globe and check valves. These are available in a range of valve sizes from 1/4" up to 2" with flanged ball valves from 1" up to 6".
Commitment to Quality
Matco-Norca's industrial products are sourced from longstanding global partners and made to industry specifications in order to meet all requirements. Matco-Norca has created a special Industrial Products section on its website at www.matco-norca.com.
About Matco-Norca
Matco-Norca, headquartered in Brewster, NY, is a leading supplier of globally sourced, code compliant Plumbing and PVF products for use in residential, commercial and industrial applications. In business for over 60 years, Matco-Norca operates four national distribution centers and select regional warehouses. www.matco-norca.com.
Contact This Company Download Spec Sheet
More from Fluid & Gas Flow Equipment