Cast Metal Heat Sinks Cool Large Scale Outdoor Lighting Systems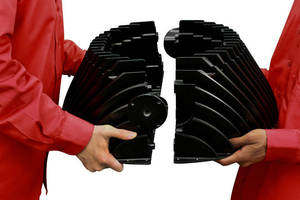 Norwood, MA – Advanced Thermal Solutions, Inc. ATS, now uses advanced die casting technology to produce heat sinks that cool stadium lighting and other large scale outdoor lighting systems. At the site of the 2015 Super Bowl (XLIX) in Glendale, Arizona, cast metal heat sinks from ATS helped cool the high output LED lighting around the University of Phoenix Stadium.



The University of Phoenix Stadium was the first NFL field to be lit using only LEDs. The new lights draw approximately 310 kilowatts of energy compared with the 1,240 kilowatts required by the stadium's former halide system, a savings of about 75%. To realize these benefits, the LEDs needed a thermal management solution that could meet the cooling needs of the lighting as well as perform in the high heat of Arizona.



The solution was a custom, 2-part, die cast aluminum heat sink designed by Advanced Thermal Solutions. Die casting allowed the heat sink to meet exacting tolerances required in the lighting design. Painted and installed, the aluminum sinks fit the stadium's modern design look while providing the essential cooling solution. 



With advanced die casting processes, larger heat sinks can be produced to bring thermal management to modern heat problems. An ATS die casting was used to create the heat sink structures used on LED-based city street lights in an urban setting. Another ATS die cast sink helps cool an LED canopy lighting system for gas station fuel pump areas. The stated needs for this passive heat sink included proper functioning in the presence of hornet nests.



Die casting can yield complex, precise, rigid cast parts with smooth surfaces that don't need intense secondary machining. The casting process allows for much higher aspect ratios while fulfilling the requirements of small inter-fin spacing. Die casting is a practical way to produce high volumes of precision parts, especially for large solutions in applications that require unique shapes for accommodating the electronics.



More information on die cast heat sinks is available on the ATS website, http://www.qats.com/Services/Die-Casting, by email: ats-hq@qats.com or at 781-769-2800.



About Advanced Thermal Solutions

Advanced Thermal Solutions, Inc. (ATS) in its 26th year, is a leading-edge engineering/manufacturing company focused on the thermal management of electronics. ATS is world renowned for its innovative thermal management solutions, including its portfolio of more than 5,000 high- and ultra-performance heat sinks, liquid cooling solutions, research-quality test equipment, and leading-edge RD. qats.com. Their main R&D and manufacturing campus is located in the USA in Norwood MA.



More from Agricultural & Farming Products