Casella Sound Meter With Real Time Analyzer Reduces Test Times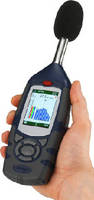 AMHERST, NH, -- Designed for safety compliance and exposure monitoring, the Casella CEL-620B sound meter digitally measures sound level in factories, refineries, construction sites or other workplaces where noise is a concern. In addition to assuring compliance to government regulations, such as OSHA, ACGIH and NIOSH, it helps occupational hygienists in quickly identifying and eliminating noise factors.

Although priced in the mid-range class, the CEL-620B has features found in instruments costing hundreds of dollars more. At the top of the list is a wide sound range (20 to 140 dB) and real time octave band frequency analysis from 16 Hz to 16 kHz, along with a full-color LCD that presents overall noise levels in numerical and graphical formats.

The CEL-620B also has the capability to measure three broadband levels plus 11 octave bands over the whole audio range simultaneously in parallel. Based on digital signal processing, this simultaneous recording eliminates the need to go back and re-measure the noise to get the result set required for a thorough survey.

Additional features are:

A, C and Z (Linear) frequency weightings (simultaneously)

Fast, Slow and Impulse time weightings (simultaneously)

Q=3, 4 and 5 exchange rates (simultaneously)

measures instant, maximum and minimum levels

measures Leq, Lavg(DOD), Lavg(OSHA)

measures maximum and time average level in all octave bands

manual measurements using intuitive menus.

Up to 100 run results can be stored in its internal memory for later retrieval. The instrument connects to a PC using its integral high speed USB interface. Runs can be imported into standard office programs such as word processors and spreadsheets.

The CEL-620B is available in ANSI Type 1 or Type 2 versions depending on the microphone capsule fitted. It can be purchased seperately or as part of a full measurement kit with a matching acoustic calibrator and accessories.

For more information, please call 800-366-2966 or email info@casellausa.com. On the web at www.casellausa.com.

ABOUT CASELLA CEL

Founded in 1799 and headquartered in the United Kingdom, Casella CEL is one of the world's leading suppliers of environmental monitoring technologies. It is an ISO 9001-2000 and ISO 14001 certified company with a focus on the development and manufacture of state-of-the-art environmental monitoring instrumentation. Casella CEL instruments are preferred around the world for personal air sampling, real-time dust and particulate measurement, heat stress measurement, IAQ assessment, weather and rainfall monitoring, personal noise dosimetry, environmental noise measurement and real-time frequency analysis. In 2006, Casella CEL was acquired by Ideal Industries, Inc. For more information, please visit www.casellameasurement.com.

Casella USA is the North American subsidiary of Casella CEL and is headquartered in Amherst, New Hampshire. Sales, service and instrument recalibrations are carried out in the Amherst office by factory trained engineers. This office covers all sales in Canada, the USA and Mexico. For additional information, please visit www.casellausa.com.

More from Architectural & Civil Engineering Products