Case Study: Hospital System Using Akro-Mils Products to Go Mobile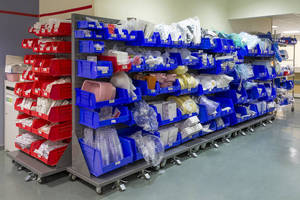 Akron, Ohio — Relocation of active departments in a medical facility is a daunting process. Materials managers at a Midwestern medical system — with multiple locations serving more than 1 million patients annually — discovered how challenging it can be as they moved departments as part of a construction project at the system's main campus.



A Massive Move



A team led by the system's materials management director was tasked with coordinating the logistics of moving multiple departments as the medical system expands its main campus facility. The team designated a floor to temporarily accommodate units that were displaced during the project, the director says. Once a unit's new space was completed, the department moved again. But the materials managers found that transporting the medical supply racks was more time-consuming than the departments can afford.



"The issue was that we used stand-alone, single-sided louvered racks to store supplies in plastic storage bins — and sometimes these racks are placed in hallways," he says. "For each move we had to take the racks down, put them on a cart, and rebuild them when they got to their new location. It takes forever, and it's very labor intensive."



So the team asked Akro-Mils, a North American leader in storage, organization and transport products, to create a dolly to make this challenging job easier.



Going Mobile



The medical system officials had several important requirements for the new product:




Swivel casters, so racks can be moved easily for reassignment or storage area cleaning;



Locking brakes, so racks can be securely positioned anywhere; and



A design that meets requirements of healthcare accrediting organization The Joint Commission, such as bottom height off of the floor, and maximum total height requirements.



Akro-Mils' New Product Development Team then found a solution: creating a dolly designed specifically for the company's model 30661 Single-Sided Louvered Rack. The dolly features heavy-duty, all-steel construction; bolton casters for easy replacement; floor locks; and a durable, powder-coated finish.



Expected and Unforeseen Benefits



The materials management director says the new dollies have transformed the medical system's "stand-alones." The new mobile racks have given benefits including needed mobility, ease of use, and maximized storage space! "With the new dolly we can move a rack, hit the brakes, and that's it," he says. "The supplies stored on the mobile racks are ready for use immediately. And when we know that a department is moving, we can set up mobile racks in advance and wheel them into place."



And the materials management team also found an unexpected benefit, he adds: "With the new dolly, when you put a bin on the rack it gives what we think is a better angle for viewing. That makes it much easier to identify what is in the bin, scan a label or restock the bin. It was a great bonus!"



Spurring Future Plans



The director says the successful use of the initial dollies is leading to an effort to add dollies to all single-sided racks in the system. The materials management team also is considering the racks for procedure carts and other uses.



"Because this new dolly says 'mobile,' we can think of a million and one things to do with it," he says. "This will be the blueprint for everything we do moving forward!"



About Akro-Mils



Akro-Mils is a leading manufacturer of plastic and metal storage, organization, transport and material handling products for use in industrial, medical/pharmaceutical, commercial and consumer markets. Akro-Mils is dedicated to providing innovative, quality products that help customers improve inventory control and overall efficiency. Located in Akron, Ohio, Akro-Mils is a Myers Industries, Inc. company. For more information, please call 800-253-2467, fax 330-761-6348, or visit www.akro-mils.com.



1293 South Main Street

Akron, Ohio 44301

800-253-2467

Fax: 330-761-6348

www.akro-mils.com



Media Contact:

Ken Torisky — Communications Manager, 330-761-6323

More from Software