Case/Piece Picking System allows customization of orders.
Press Release Summary: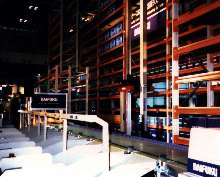 Piece-Picking System features high-speed box buffer, which handles up to 300 cases/hr, automatically replenishing flow rack. Piece Sorter has multiple chutes that can each handle many small orders or single large one. Order consolidation station allows accurate configuration of many small orders to multiple customer locations. Warehouse Rx® WMS controls system and uses operational data to allow assignment of resources where most needed.
---
Original Press Release:

SK Daifuku Unveils the Revolutionary New Case and Piece-Picking System at Promat 2003


The system responds to an industry need for smaller, more customized orders

SALT LAKE CITY, UT - During ProMat 2003 in booth 1415, February 10 - 13 at Chicago's McCormick Place North, SK Daifuku will display and demonstrate a complete fulfillment operation designed to meet the needs of those who ship a few items to many
customers or many items to a few customers. Allowing order sortation and consolidation in a small area, SK Daifuku introduces the new case and piece-picking system that
makes value-added services possible for customization and eliminates daily or seasonal order-picking challenges while keeping pace for same-day order fulfillment.

"As customers move to mass customization, the ability to pick cases and even pieces rather than pallet loads becomes increasingly important," says ProMat project manager Ben Beasley. "That's why SK Daifuku's exhibit demonstrates the latest case and piece-picking technology, featuring a high-speed box buffer which automatically replenishes flow rack to eliminate out-of-stock order pick situations."

A high-speed slide shoe sorter called the Piece Sorter features multiple chutes that can each handle many small orders or a single large one. It is easily reconfigurable to handle
numerous orders. An order consolidation station allows fast, accurate configuration of many small orders to multiple customer locations. Controlling these pieces is SK Daifuku's WMS, Warehouse Rx® featuring Data Doctor, which uses operational data to allow assignment of resources where they are most needed. To get specifications or application information, you can visit us online right now at promatbooth1415.com

The MSS III (Modular Storage System) high-speed box buffer is capable of operating as a standalone system for a single self-contained warehousing module or can be grouped with other MSS IIIs for very large systems. Twice as fast as its predecessors, the MSS III can store and retrieve an item in 12 seconds, making it capable of handling 300 cases per hour. Functioning in a broken case picking operation, as seen here, allows access to
thousands of SKUs in seconds. In addition to end-of-aisle picking, the MSS III automatically loads the digital pick-to-light flow rack system.

The digital pick-to-light flow rack uses the new carrier on wire system that eliminates cables. This makes it highly customizable and adaptable in no time at all. The system uses this piece as a hybrid picking system where high demand inventory is placed in the system and the slower moving inventory are picked at the end of the aisles. This means less travel for order pickers and quicker delivery of the most popular inventory. Because the control system knows the exact count of inventory, the flow rack is automatically replenished, ensuring there won't be a shortage of stock. From the flow rack, items then proceed to the new Piece Sorter where orders are sorted and readied for shipping.

The new Piece Sorter enables the widest range of product size and shapes of any sorter on the market. The small parts sorter features multiple chutes, each of which can handle many small orders or can be dedicated to a single large order. This particular system allows up to 108 highly accurate sorts in 60 feet. Conventional sorters would need at least twice that space. The non-contact/zero maintenance power system allows for
gentle and quiet operation. It's easily reconfigurable which helps maintain ultimate flexibility in order pick operations.

The consolidation station allows fast, accurate configuration of smaller orders to multiple customer locations with a pick-to-light system that is virtually 100% accurate. It eliminates wasted space that comes along with sorters that use a chute for each order. The tri-colored lights make this system easy to operate. The green light indicates storage location, the amber light indicates an order is complete and the red light indicates that an item has been stored incorrectly. This system virtually guarantees error free order picking.

SK Daifuku's warehouse management system, Warehouse Rx®, controls the system ensuring fast, accurate and efficient results. Warehouse Rx® handles small systems like the one here and will expand to handle a complete distribution center with millions of transactions per day. Easy and inexpensive to install, integration into any operation including manual, semi-automated, and completely automated systems is possible. The
software is flexible, offering over 200 user-configurable parameter settings. Warehouse Rx® features Data Doctor, an innovative data profiling system that provides reports on Labor Efficiency, Warehouse Utilization, Inventory Status, Shipping and Receiving Analysis, and Supplier Analysis using current and historical data to help make decisions when conditions change in an operation.

This self-contained, space efficient storage, picking, sorting and shipping module can be installed as its own "warehouse in a warehouse," or the components can be quickly combined in a number of different ways to fit the needs of any application. Being modular, each of these tools arrives at the jobsite ready to work. Daifuku quality is legendary in the industry which means a lower cost of ownership. Space efficient and flexible, this miracle of modern technology can be installed in any existing footprint.

See this system shine at ProMat 2003, or get a look at it now by visiting SK Daifuku's virtual booth at promatbooth1415.com. Get all of the information you need to know to be an educated consumer on the show floor.

For more information, contact SK Daifuku Corporation, 5202 Douglas Corrigan Way, Salt Lake City, Utah 84116. Phone: 801-359-9900; FAX: 801-359-9911; Email:info@skdaifuku.com. Information on SK Daifuku products and services via the Internet is available at SK Daifuku's Web site, skdaifuku.com.

SK Daifuku Corporation, a Daifuku Company, designs, sells, installs, and supports a complete line of world-class logistics systems for automated material handling in manufacturing, distribution, and cleanroom environments. SK Daifuku's full range of advanced-technology products for manufacturing/distribution automation includes logistics studies, conveyors, sortation systems, transport vehicles, order-picking systems, staging and storage buffers, and real-time warehouse management software (WMS). For cleanroom applications, SK Daifuku offers a variety of stockers, lifters, and interbay/intrabay transport systems for 200mm and advanced 300mm wafer fabs, along with Liquid Crystal Display (LCD), Flat Panel Display (FPD) and other cleanroom applications. SK Daifuku is based in Salt Lake City, Utah, with regional offices and factory representatives located throughout the United States.

More from Thermal & Heating Equipment