Case Palletizer suits food and consumer goods industries.
Press Release Summary: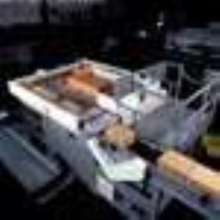 Designed for single-line applications, Alvey 780 utilizes infeed and right-angle pattern formation to achieve pattern flexibility. Close-center rollers and biparting apron enable unit to handle various case and pallet sizes. Options include recirculating row pusher, hoist, and pattern generation utility. Product is RFID-enabled, allowing it to change patterns on the fly, manage end-of-run clearing, and track production and inventory information.
---
Original Press Release:

FKI Logistex Adds New Options and Features to Alvey 780 Case Palletizer


Modifications to popular model increase capacity as much as 30 percent while preserving original footprint

(St. Louis, MO: August 23, 2004) FKI Logistex® (www.fkilogistex.com), a global leader in integrated material handling solutions, announces new design and interface options for the popular Alvey 780 case palletizer. The new options dramatically increase the 780's capacity and its value as the industry-leading choice for low-speed palletizing applications.

Particularly suited for single-line applications in the food and consumer goods industries, the Alvey 780 utilizes high-level infeed and right-angle pattern formation to achieve outstanding pattern flexibility. Close-center rollers and a bi-parting apron also give the 780 the ability to handle a wide variety of case and pallet sizes. Its compact footprint is ideal for existing facilities where space is at a premium.

A recirculating row pusher is one of several new options offered on the 780. This feature improves case flow and allows higher palletizing capacities with rates up to 45 case-feet per minute. It is offered as an alternative to the standard reciprocating row pusher.

A new high-speed hoist is another available option to further increase capacity when handling short loads or large cases. In keeping with the 780's already quiet operation, hoist-generated noise has been further reduced by improvements throughout the hoist drive-train.

Also new is an optional pattern generation utility, which provides the user with the ability to create new stacking patterns through the 780's user interface. A pattern timing utility, offering the ability to tune existing patterns, is now a standard feature.

In addition, the 780 is RFID-enabled, giving it various capabilities such as changing patterns on the fly, managing end-of-run clearing, and tracking production and inventory information.

"Still in its original size, the 780 now offers substantially greater capacities than competitive products that are larger and more expensive," says Ken Thouvenot, FKI Logistex Manufacturing Systems vice president of project management and marketing. "The 780's compact footprint allows it to fit where floor space is an issue, and its flexible layout configurations enable it to work within an operation's specific needs. For quality and price-performance in a low-speed case palletizer, the 780 is the clear choice."

Built for optimum reliability and reduced maintenance, the 780 is designed with a heavy-duty frame, premium components, and a minimum number of moving parts. Its advanced diagnostic system displays human-readable messages that enable quick diagnosis of any potential problem. The 780 is supported by 24/7 service and support from the FKI Logistex Customer Service & Support (CSS) program.

For an onsite demonstration of the 780's capabilities and its integration with other Alvey material handling equipment, visit FKI Logistex booth S-2636 at PackExpo in Chicago, November 7-11, 2004. For sales and marketing information, please contact Jill Raab, marketing communications coordinator, FKI Logistex Manufacturing Systems, by phone at (314) 993-4700 or by e-mail at jill.raab@fkilogistex.com.

About FKI Logistex North America

FKI Logistex® North America (www.fkilogistex.com) is a leading provider of automated material handling solutions, supplying its customers with an integrated set of leading-edge technologies in high-speed sortation, conveyor systems, carousels, palletizing, paperless pick products, AS/RS, controls, order processing software, RFID implementation, warehouse control systems, and total materials handling automation.

FKI Logistex Airport, Post and Parcel integrates high-speed sortation and conveying systems to meet the high-throughput needs of postal and parcel customers, and provides advanced baggage handling, security, and RFID track-and-tracing for airports of all sizes. FKI Logistex Manufacturing Systems builds automated material handling systems using state-of-the-art technology for storing, picking, ID solutions, palletizing, kitting, packing and shipping that enable manufacturers to process more orders per day at a lower cost. FKI Logistex Warehouse and Distribution designs high-accuracy, high-speed, high-reliability material handling, sortation, and order fulfillment solutions for warehouses and distribution centers that shrink the supply chain and maximize material handling ROI.

With projects that include many of the world's most advanced material handling operations, FKI Logistex is home to the industry's most successful and recognized brands, including Alvey palletizers, Buschman conveyors, Cleco cranes and AS/RS solutions, Crisplant sorters and baggage handling applications, IoSystems supervisory and automated control systems, Mathews conveyors, Real Time Solutions order fulfillment and picking solutions, and White carousels and automated storage solutions. For more information on FKI Logistex, click here to visit the FKI Logistex media center. For sales information, contact FKI Logistex by phone at (877) 935-4564 or by e-mail at info@fkilogistex.com.

More from Machinery & Machining Tools