Case Palletizer offers alternative to hand palletizing.
Press Release Summary: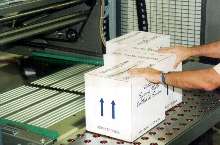 Model 72SA reduces risk of injury to workers handling heavy loads by lifting cases and stacking pallet with semi-automatic operation. Actuated via footpad or push-button, machine lifts cases on loading table and places them upon previous layer; rear layer retainer plate and 2 side layer squaring plates center the layer squarely on pallet. Features include steel frame, counterweighted elevator table, and low-friction roller transfer table.
---
Original Press Release:

Semi-Automatic Case Palletizer Offers a Low Cost Upgrade from Hand Palletizing


Tarpon Springs, FL - The A-B-C Model 72SA gives packagers a low-cost option for upgrading their palletizing operation, with a production machine that eliminates the need for workers to lift heavy, packed cases and relieves the risk of injury, worker compensation claims, and increased insurance premiums.

The case palletizer does all the work of lifting cases and stacking the pallet. The operator simply positions the cases into the pallet pattern by sliding them from the infeed conveyor onto the loading table. Once the pallet layer is completed, the operator simply activates the machine either by footpad or push-button. The layer is automatically lifted and placed squarely upon the previous layer, and the transfer table returns to the start position for the next layer. High quality pallet loads are ensured as the machine utilizes a rear layer retainer plate and two side layer squaring plates to center the layer squarely on the pallet.

The 72SA is a workhorse machine with a heavy gauge steel frame. The elevator table is counterweighted to ensure smooth transport and supported by crossbar reinforcing beams for reduced case friction. A low friction roller transfer table is available to allow easy handling of heavy and shrink-wrapped cases.

The small footprint of the Model 72SA makes it easy to install on the packaging line. The system may be upgraded to a fully automatic machine if higher speeds are required in the future.

For complete details, contact A-B-C Packaging Machine Corporation, 811 Live Oak Street, Tarpon Springs, FL 34689, Phone 800-237-5975, Fax 727-938-1239, www.abcpackaging.com.

More from Sensors, Monitors & Transducers