CAS Introduces New 4-Channel AC Current Data Logger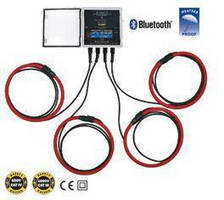 Simple Logger II AL834 with Bluetooth Adapter

CHESTERLAND OH - CAS DataLoggers has partnered with AEMC Instruments to announce the new Simple Logger II Model AL834, a 4-channel AC current data logger with 4 integral AmpFlex flexible current probes and integrated Wireless Bluetooth communication for monitoring and configuration. Each flexible probe measures 24 inches long and can easily wrap around conductors up to 8 inches in diameter. This new AC current logger is ideal for many applications, including single/split phase and 3- phase monitoring, neutral and ground current monitoring, intermittent problem detection, machine load monitoring, fault current detection, and load profiling.

The Simple Logger AL834 incorporates two measurement ranges of up to 300 and 3000 Amps TRMS that are user-selectable per channel. The light weight, compact data logger enclosure and the current sensors are all weather-proof, IP65 rated for use outside or in harsh environments. The Simple Logger II captures 64 samples per cycle for accurate evaluation of current values. The AL834 offers 4 different data storage modes to optimize the way data is stored for particular applications, as well as data sampling rates from 125 ms to 1 per day, programmable through the software provided. Internal non-volatile memory can store up to 1,000,000 measurements for extended logging periods. Logger status is clearly displayed by 6 LED indicators on the front panel.

The Model AL834 is powered by 4 standard C-cell alkaline batteries allowing recording times of up to six months. A Wireless Bluetooth adapter included with the data loggers enables communication to a PC. The AL834 also includes the DataView configuration, data analysis and reporting software. DataView configures all the Simple Logger's settings including sample rate, recording length, channel configuration and more from a Windows PC. Real-time data including waveforms, trend graphs, harmonic current monitoring is available for display and analysis on the PC as well. Operators can create and store a self-contained library of configurations that can be uploaded to the current logger as required. The DataView package allows the user to design and print reports and data views using standard or custom templates. Free software upgrades are available on the manufacturer's website.

For further information on data logging and remote monitoring systems, temperature monitoring solutions for cold chain and transport applications, facilities monitoring and alarming systems or data acquisition and control equipment contact a CAS Data Logger Applications Engineer at (800) 956-4437 or visit the website at www.DataLoggerInc.com.

More from Software