CAS DataLoggers Introduces RFID Cold Chain Solutions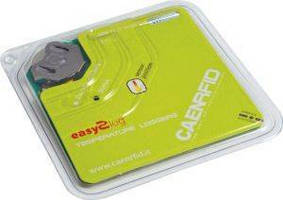 CAEN RFID Tags and Readers Monitor Temperature in the Cold Chain



CHESTERLAND OH— At CAS DataLoggers we're proud to introduce our new UHF RFID cold chain solutions from cutting-edge manufacturer CAEN RFID, specializing in temperature monitoring products for use in shipping and storage. RFID tags and readers are fast on track to become the industry standard for temperature monitoring in the Pharma and Food & Beverage industries. CAEN RFID Easy2log© Data Loggers are ideal solutions for providing visibility of the overall supply chain. These products will streamline your cold chain operation and are available immediately from CAS DataLoggers—call an Application Specialist at (800) 956-4437 and learn more!



RFID is Convenient and Low-Cost:

We provide CAEN RFID's state-of-the-art Radio Frequency Identification (RFID)-enabled Temperature Logger Tags and Readers for perishable products. With UHF RFID communication you avoid all the manual labor associated with USB loggers such as individual configuration and installation during shipment and connecting each to a PC to download data. All this work makes USB bad for large jobs.



In contrast to USB data loggers, CAEN RFID tags allow you to track and trace your product for complete cold chain validation and transparency. This enables you to check your product's condition at any link in your cold chain, giving you a great way to achieve regulatory compliance at a low cost.



Using RFID tags and readers, you can configure devices and download your data through packaging and boxes thanks to the wireless link. Collect data from multiple loggers simultaneously, even at long distance. Automate your operations by installing reading stations at critical checkpoints--impossible using USB loggers! RFID gives you a way to provide temperature data to your customers exactly when they need it, i.e. while they can still take corrective actions before your product is lost or spoiled.



CAEN RFID products also support integration with a web portal so that when you input your tracking number, you'll see the time, location info, and the entire temperature history from the shipment time to the checkpoint.



RFID Offers Integrated Solutions:

CAEN RFID products seamlessly add temperature monitoring to your other logistic solutions, giving you a fully integrated supply chain information management system. Our Easy2log© temperature logger RFID tags can be read and configured using a standard EPCGlobal-compliant RFID reader without needing any special commands or devices. It's easy for an operator to use our mobile or desktop reader by just walking near a product container to get the data. Additionally the RFID loggers can be used over multiple shipments thanks to their long battery life and reset function.



Temperature Tags:

We offer two low-cost, semi-passive tags that monitor and record temperature data—the Easy2log© A927Z and RT0005 UHF RFID tags. The combination of a high-resolution sensor, large memory, alarm capability and standard RFID interface makes these data loggers an effective way to track and trace cold chain products.



In particular the RT0005 tag can be started either by pressing a button or via standard RFID commands. The tag is also able to calculate the Mean Kinetic Temperature and the configurable remaining shelf life time as well as generate alarms in case these values exceed user-defined thresholds.



An external probe model is also available for both models of data loggers to measure temperature even inside a shielded box where the RFID field cannot get through.



Desktop Reader:

The Slate UHF RFID desktop reader is a multi-regional UHF RFID reader with integrated antenna for short- to medium-range applications. Powered and controlled directly by a USB cable, the Slate can read EPC Class1 Gen2 UHF RFID tags in an easy desktop environment.



Thanks to its low profile (15 mm) and small size (approximately an A4 page), the Slate reader is the perfect choice for various applications such as point-ofsales, document tracking, tag programming stations, access control and so on. We also offer a complete kit containing the Slate reader, temp tags and labels.



Portable Readers Gather Data on the Go:

We also offer portable UHF RFID readers designed for use in indoor or outdoor applications such as inventory management, field sales mobility, and service and maintenance applications. When paired with a smartphone or a tablet, our compact RFID readers are a cost-effective alternative to more expensive handheld devices.



The Wearable Bluetooth RFID Reader, usable with the Easy2read© Family, is a UHF multiregional RFID reader with integrated antenna for short- to medium-range applications. It is compliant with ISO 18000-6C/EPC C1G2 standards. The reader hosts an internal rechargeable battery and can operate either in wired mode using a USB cable or in wireless mode via the Bluetooth® interface. The reader is compatible with Windows XP/7, Windows CE/Mobile, Android and iOS operating systems.



The Keyfob Bluetooth UHF RFID Reader reads data from the Easy2read© product family and is compliant with UHF RFID ISO 18000-6C/EPC C1G2 standards. This handheld device has an integrated antenna suited for short to medium range applications and, thanks to the Bluetooth® communication interface, it is a perfect UHF RFID add-on for any Bluetooth® enabled host such as a PC, a smartphone, a PDA or a tablet. The reader is compatible with Windows XP/7, Windows CE/Mobile, Android, iPhone and iPad. The HID version supports native keyboard emulation allowing direct interaction with legacy applications, office automation SW or any other generic solution requiring manual input.



Free Control Software:

Available for free download, the Easy2log© software allows you to configure, control and download data from the temperature tags. We also offer a software development kit enabling further customization.



Modernize and validate your cold chain or pharma operation today with CAS DataLoggers and CAEN RFID! For more information on our new UHF RFID tags and readers for cold chain and pharma temperature monitoring applications, or to find the ideal solution for your application-specific needs, contact a CAS Data Logger Applications Specialist at (800) 956-4437 or visit the website at www.DataLoggerInc.com.

More from Machinery & Machining Tools