CAS DataLoggers Introduces New Non-Contact Phase Rotation Meter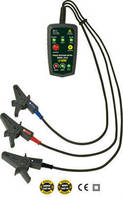 AEMC Model 6610 Phase/Motor Rotation Tester

CHESTERLAND OH-CAS DataLoggers has teamed with high-quality data logging manufacturer AEMC to announce the new Non-Contact Phase Rotation Meter Model 6610, an essential tool for any installation, inspection and maintenance facility. The Model 6610 is a non-contact (containing no metal contact points) phase meter designed to identify phase rotation on 3-phase systems and identify live and open/de-energized phases. The phase order is determined as soon as the leads are connected. The presence of live wires and phase sequence are provided by LED indication and buzzer as soon as detection has occurred. The new Model 6610 data logger forms an economical solution for installing rotating machinery or motors and for checking generator phase rotation direction.

Using the new meter, users can verify incorrect phase wiring, detect open or de-energized phases, and determine correct wiring for proper rotation on motors, pumps, etc., all without direct electrical contacts. Measurements are taken within the meter's 45-65Hz frequency range, and the logger's wide operating voltage ranges from 75-1000VAC. The meter's bright LED indicates Live or Open Phase (A, B, C), and also features Phase rotation LED indicators (ABC or BAC) and a low battery indicator. For convenience, the meter's back cover includes a magnet feature that can mount the device onto any metal cabinet panel for easy measurement.

The Model 6610 is rated to 1000V CAT III and 600V CAT IV, making it suitable for taking safe measurements on hard-wired equipment in fixed installations, distribution boards, and circuit breakers as well as origin of installation or utility level measurements on primary over-current protection devices and on ripple control units. The data logger comes in a comprehensive kit including the meter as well as attached color-coded test leads (black, red and blue) with large non-metallic alligator clips for easy connection to the device under test, a soft carrying case, a 9V battery, a user manual, and a warranty card.

AEMC data loggers offer users compact stand-alone monitoring systems with models for measuring AC or DC voltage or current, temperature, humidity, and event recording. AEMC Instruments manufactures professional electrical data loggers for industrial, commercial and utility applications: these quality products are backed by over 100 years of experience in test and measurement equipment and encompass the latest international standards for quality and safety. These easy to use, cost-effective solutions utilize the convenient DataView software package to configure the loggers, display real-time results on a PC, or download and analyze stored data.

CAS DataLoggers is a major distributor of data loggers, paperless chart recorders and data acquisition systems which sells directly to end users and works through an extensive network of distributors and resellers throughout the United States, Canada, Central and South America. CAS DataLoggers engineers can provide comprehensive assistance in selecting the appropriate product for specific applications, recommend sensors and transducers, and provide FREE postsales technical support. Other services available include custom programming, calibration, onsite installation, wiring and packaging, and engineering and design.

For more information on the new Non-Contact Phase Rotation Meter Kit, other AEMC dataloggers, or to find the ideal solution for your application-specific needs, contact a CAS Data Logger Applications Specialist at (800) 956-4437 or visit the website at www.DataLoggerInc.com.


More from Software