Carts extend reach of conveyor systems.
Press Release Summary: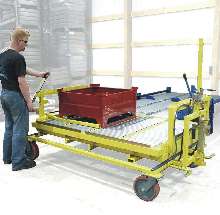 Transfer Conveyor Carts enable containers to come off and on conveyor line, and move to other areas. Once in position, slight push of no more than 35 lb sets cart to abut conveyor line, even when fully loaded to max capacity of 3,000 lb. Roller top enables containers to roll off and on line. Foot-operated hydraulic pump operates shift mechanism on cart and is able to shift 6 in. in either direction. Fail safe container stops keep loads in place.
---
Original Press Release:

New Cart Extends Reach of Conveyor Systems


(Sturtevant, WI) - Operating along the lines of the adaptable manufacturing concept, TOPPER INDUSTRIAL introduces the new Transfer Conveyor Cart for more productive container handling.

This company has built its reputation as a leading provider of standard and custom containers. TOPPER is developing new ways of handling them with the company's continually expanding line of carts for flexible material handling. The Transfer Conveyor Cart enables containers to easily come off and on the conveyor line, and move to other areas.

A tugger or small powered cart can move these carts to and from the line. Once in position, a slight push of no more than 35 lbs sets the cart to abut the conveyor line, even with the Transfer Cart fully loaded to its generous maximum of 3,000 lbs.

The Transfer Conveyor Cart has a roller top that enables containers to roll off and on the line. A foot operated hydraulic pump operates the shift mechanism on the cart and is able to shift six inches in either direction. Exterior fail safe container stops and interior adjustable container stops safely keep loads in place.

The Transfer Conveyor Cart has heavy-duty casters with precision sealed bearings to eliminate maintenance. The cart can be equipped with a variety of tow bar, hitch and coupler styles to adapt it to existing tuggers. A floor lock is provided to keep the unit securely in place during loading and unloading.

As with all of its products, TOPPER INDUSTRIAL can provide timely and cost-effective custom versions of the Transfer Conveyor Cart

TOPPER INDUSTRIAL has 30 years experience in making fabricated products including steel material handling containers, custom material handling racks, non-powered over and unders and many specialty items for industrial applications nationwide.

Ed Brown/TOPPER INDUSTRIAL
1729 E. Frontage Rd.
Sturtevant, WI 53177
1-800-529-0909
sales@topperindustrial.com
topperindustrial.com/sub/carts.html

More from Services