Cartridge suits intense pulsed light treatment systems.
Press Release Summary: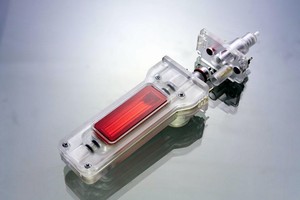 Integrating flashlamp, optical reflector, filter, and electrical assembly, Aesthetipak(TM) water-cooled cartridge is used in light-based aesthetic and medical procedures including skin rejuvenation, dermatological treatments, and hair removal. Unit's circuitry allows for lamp or cartridge ID and other system data to travel with cartridge, while safety interlock shuts down in event of inadvertent disconnect or at end of lamp life.
---
Original Press Release:

Perkinelmer Debuts at Eadv Congress New Aesthetipak(TM) Cartridge for Intense Pulsed Light Treatment Systems



10/04/2006

Innovative New Cartridge Design for Use in Treatment Systems for Skin Rejuvenation and Hair Removal

EADV Congress, Rhodes, Greece - PerkinElmer Optoelectronics, a global technology leader in digital imaging, specialty lighting and optical detection technologies, today announced that it will introduce its new AesthetiPak(TM) Cartridge for Intense Pulsed Light systems at the 15th European Academy of Dermatology and Venereology (EADV) Congress, October 4-6, 2006 at the Hilton Rhodes Resort in Rhodes, Greece.

AesthetiPak is the world's first high energy water-cooled cartridge for use in Intense Pulsed Light treatment systems and integrates a flashlamp, optical reflector, filter and electrical assembly into a watertight, easy to handle, disposable cartridge. The integrated design reduces OEM costs, service needs, and development time.

Additionally, this plug-and-play system allows the professional in the medical spa or skin care center to quickly, easily and safely remove the cartridge from the handpiece. The new AesthetiPak Cartridge can be utilized in a broad range of light-based aesthetic and medical procedures including skin rejuvenation, dermatological treatments, and hair removal.

"PerkinElmer is the largest supplier of light engines to the aesthetics market and for years we have been helping Aesthetic and Medical Laser leaders innovate. From our experience, we appreciate the need for a self contained, easy to design-in, easy to service, compact light system for handpieces," said Rick Weiler, Vice President and GM, PerkinElmer Optoelectronics.

"We believe that our new AesthetiPak Cartridge will become the new aesthetics industry standard for Intense Pulsed Light treatment systems and look forward to working with OEMs around the world in designing it into their systems' handpieces," Weiler adds.

The AesthetiPak Cartridge was designed with safety in mind. Its intelligent circuitry allows for lamp or cartridge ID and other system data to travel with the cartridge and assist with safe and optimal performance. In addition, it features a safety interlock that shuts down in the event of an inadvertent disconnect or at the end of lamp life. The AesthetiPak Cartridge is available in standard and long-life versions, two filter options, and three arc lengths.

The new AesthetiPak Cartridge will be exclusively shown at the Hilton Rhodes Resort, "Elafos 2" Conference Room. The hotel is conveniently located next door to the main EADV venue. For more information, or to schedule an appointment at EADV, please contact Ms. Soo-Jin Pak at soo-jin.pak@perkinelmer.com or +49-178-492-1066.

PerkinElmer Optoelectronics is a global technology leader in digital imaging, specialty lighting and optical detection technologies. We provide applications-driven, integrated solutions to leading OEMs in Health Sciences and Industrial Science markets. More information about PerkinElmer Optoelectronics recent announcements is available at http://optoelectronics.perkinelmer.com/content/corporate/news/pressreleases.html.

PerkinElmer, Inc. is a global technology leader driving growth and innovation in Health Sciences and Photonics markets to improve the quality of life. The Company reported revenues of $1.5 billion in 2005, has 8,000 employees serving customers in more than 125 countries, and is a component of the S&P 500 Index. Additional information is available through www.perkinelmer.com or 1-877-PKI-NYSE.

Phone: 450-424-3300
URL: optoelectronics.perkinelmer.com

Contact Name: Fran Bernitz
E-mail: opto@perkinelmer.com

More from Fluid & Gas Flow Equipment