Cartridge suits 2-component adhesives, epoxies, sealants.
Press Release Summary: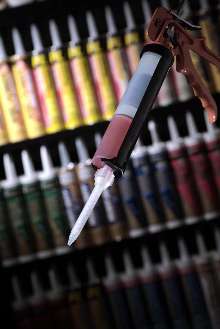 Universal 2-component adhesive cartridge fits in standard caulk gun and is offered in 2:1 ratio pack. Cartridge stores one component of adhesive in front of the other and both are extruded through cartridge outlet into static mixer simultaneously. Unit maintains accurate volumetric ratio and eliminates bulging or expansion of cartridge. The 2:1 ratio contains 177 ml of usable material.
---
Original Press Release:
Universal Cartridge

The Universal two-component adhesive cartridge that fits in a standard caulk gun;

Now available in 2:1 ratio pack

The biggest disadvantage to two-component side-by-side cartridges is the need for special dispensing guns. TAH has solved this problem with a revolutionary two-component cartridge design. The NEW Universal Cartridge fits into a standard caulking gun. The patented Universal Cartridge stores one component of your adhesive in front of the other but both are extruded through the cartridge outlet and into a static mixer simultaneously.

The Universal Cartridge is robustly designed in order to maintain a very accurate volumetric ratio, as well as eliminating bulging or expansion of the cartridge. The 1:1 ratio contains 250mL of usable material, and the NEW 2:1 ratio holds 177mL. Each cartridge is assembled and air-tested at the factory; there are no piston insertion steps necessary after filling. In addition, optimized filling equipment is available to get your project up and running quickly and efficiently.

The Universal Cartridge is ideal for most two-component adhesives, epoxies, sealants and foams.

For details and samples visit: www.tah.com/universal
Related