Cartridge Heaters offer choice of mounting configurations.
Press Release Summary: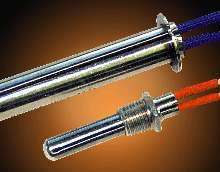 Watt-Flex® Split-Sheath Cartridge Heaters are available with stainless steel flange, mounting bracket, NPT fitting, or puller end plug. Split-sheath construction allows each half of heater to expand independently when energized, for metal-to-metal contact with surrounding bore, maximizing heat transfer. Standard diameters range from 1/4 to 1 in., and 8 to 20 mm. Units come in lengths from 1 1/4 to 72 in. with operating temperatures to 1,700°F.
---
Original Press Release:
Watt-Flex® Cartridge Heaters Available With Choice Of Mounting Variations

IPSWICH, MA - Watt-Flex® Split-Sheath Cartridge Heaters by Dalton Electric are available with a choice of mounting variations to accommodate a variety of process heating applications. Options include a stainless steel flange, a mounting bracket, an NPT fitting, and a puller end plug.

Due to their unique split-sheath design, Watt-Flex heaters run more efficiently, last longer, and are more easily replaced than conventional heaters, dramatically reducing the overall cost of process heating. Split-sheath construction allows each half of the heater to expand independently when energized, for exceptional metal-to-metal contact with the surrounding bore. This in turn maximizes heat transfer, even in oversized bores. Greater compaction of magnesium oxide around the coil provides superior heat conduction to the outer sheath, resulting in more responsive sheath temperatures, higher operating temperatures with cooler internal operation, and up to five times longer life. Because of their continuous-coil design, Watt-Flex heaters have no cold spots between sections and thus produce a uniform temperature profile along the heater sheath. With no sections to burn out, the entire heater is either on or off. The continuous coil also allows a hot tip option. When the heater is de-energized, the split sheath contracts uniformly for easy removal. In fact, Watt-Flex heaters are warranted removable from bores and sleeves.

Watt-Flex Heaters are available in standard diameters of 1/4, 3/8, 1/2, 5/8, 11/16, 3/4, and 1 inch, as well as 8, 10, 12, 12.5, 15, 16, and 20 mm; in lengths from 11/4 to 72 inches; and with operating temperatures to 1700° F. Heaters are available in custom lengths and electrical ratings, with hot and cool tips. Customers also have a choice of leads, including flexible stainless-steel hose or braid to protect against frequent flexing and abrasion, straight or right-angle headers, threaded post terminals, extra-long leads, high-temperature leads, fiberglass or silicon-rubber sleeving, an internal ground wire, and a Quick Disconnect lead with a convenient male plug.

Watt-Flex Heaters can be manufactured with a groove along the exterior cartridge sheath to accommodate a needle-type thermocouple. While conventional heater thermocouples measure the internal temperature of the cartridge, the Watt-Flex thermocouple measures the external temperature at the point of heat transfer between the sheath and host metal. This design provides more accurate sensing and control than that of conventional thermocouple-equipped heaters in temperature-critical processing applications such as molding heat-sensitive resins.

For more information, contact: Eli Whitney, Dalton Electric Heating Co., Inc., 28 Hayward Street, Ipswich, MA 01938, TEL: (978) 356-9844, FAX: (978) 356-9846, e-mail: sales@daltonelectric.com, www.daltonelectric.com.
More from Test & Measurement