Cartridge Guns are used for spray-on linings.
Press Release Summary: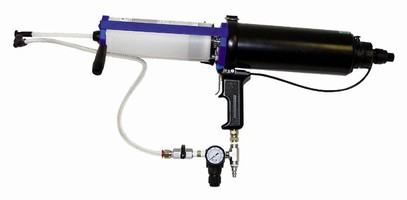 Designed to handle smaller applications, spot repairs, or hard to reach areas, RhinoPro(TM) Cartridge Gun 600 accepts dual 300 ml size cartridges, while RhinoPro(TM) Cartridge Gun 1500 accepts for dual 750 ml cartridges. Lightweight and portable guns require only small air compressor, and feature regulator, over-pressure safety system, automatic and manual return, and heavy-duty plunger body.
---
Original Press Release:
Rhino Linings® Introduces New Series of Rhinopro(TM) Cartridge Guns and Rhinopak(TM) Cartridges
SAN DIEGO, CA - June 13, 2007 - Rhino Linings USA, Inc., the global leader in sprayed-on linings for trucks as well as commercial, industrial and military applications, has announced a new series of cartridge guns designed to easily handle smaller applications, spot repairs, or hard to reach areas. The new cartridge guns are available in two models: the RhinoPro(TM) Cartridge Gun 600, for dual 300 ml size cartridges, and the larger RhinoPro(TM) Cartridge Gun 1500, which accepts dual 750 ml cartridges. Both RhinoPro cartridge guns are lightweight, portable and easy to use, requiring only a small air compressor. Each model features a regulator, over-pressure safety system, automatic and manual return, and heavy-duty plunger body. Four types of RhinoPak(TM) cartridges in either 600 ml or 1500 ml sizes, depending on material and application: o RhinoPak 90A - Rhino TuffGrip(TM) and TuffStuff(TM) o RhinoPak 55D - Rhino HardLine(TM) o RhinoPak 70D - Rhino Hi-Chem(TM) o RhinoPak SM - Rhino SolarMax(TM) All RhinoPak disposable cartridges are ready to use, with the cartridge pre-measured for correct ratio of the two component system. Their design allows the gun to be reloaded quickly, meaning a quick and cost-efficient application each and every time. Multiple colors, including graphite, tan or grey, are available in stock, depending on material. Custom colors can be special-ordered. About Rhino Linings Rhino Linings, established in 1988 and headquartered in San Diego, California, USA, is the world leader in sprayed-on elastomeric polymer protection, saving customers millions of dollars in maintenance and repairs. Rhino Linings formulations contain 100% solids, are environmentally-friendly, contain no VOCs, CFCs, or solvents, and can be sprayed onto virtually any surface to match a specific need or application. The company's global retail and industrial dealer network consists of more than 1400 independent businesses in 76 countries. For more information on Rhino Linings, call 858-410-0441, or visit www.rhinolinings.com Rhino Linings Contacts Christa Martin, Director of Global Marketing cmartin@rhinolinings.com Jan Zverina, Public Relations Manager jzverina@rhinlinings.com Ben Gallagher, Retail Product Marketing Specialist bgallagher@rhinolinings.com Bob Parsons, Industrial Product Marketing Specialist bparsons@rhinolinings.com
More from Electrical Equipment & Systems