Cartridge Fuses come in 5 x 20 mm size.
Press Release Summary: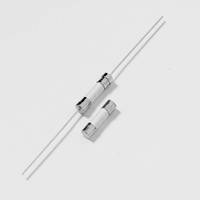 Compact 215 Series Fuses come in 15, 16, 20 and 25 A ratings for up to 250 Vac service. Ceramic body, time-lag fuses are suited for use in power supplies, white goods, air conditioner compressors, and other high-amp equipment that needs protection against high fault-current conditions. RoHS compliant fuses can interrupt currents as high as 500 A at 250 Vac under fault conditions, and are recognized under UL and CSA component programs.
---
Original Press Release:

Littelfuse Introduces 215 Series 15A-25A, 5x20 mm Cartridge Fuses



The latest Littelfuse 215 Series product line extension places the firm at the top of the supply chain for compact, high interrupting capacity, 250VAC fuses.

DES PLAINES, Illinois, December 30, 2008 - Littelfuse, Inc. (NASDAQ/NGS:LFUS) today announced its new 215 Series of 5x20mm ceramic body, time-lag cartridge fuses for high interrupting capacity in a limited space. The new fuses come in 15A, 16A, 20A, and 25A ratings for up to 250VAC service, making Littelfuse the leading supplier of compact, high-current rated cartridge fuses.

The 215 Series time-lag fuses will be of particular interest to designers of power supplies, white goods, air conditioner compressors, and other high-ampere equipment that needs protection under high fault-current conditions. Under fault conditions, the new fuses can interrupt currents as high as 500A at 250VAC, providing a remarkable margin of safety for electronic circuits.

They are used in AC applications, and their small size allows engineers greater flexibility in circuit design. Designers can replace their 6x32mm cartridge fuses with the new smaller footprint 5x20mm size.

All the fuses in this Series are RoHS-compliant/lead-free, and are recognized under UL and CSA component programs. Their opening times are tested in accordance with IEC 60127-2, Standard Sheet 5.

Availability.

Samples are available immediately. The standard OEM bulk quantity is 1000. For initial orders, lead times are approximately eight weeks ARO; for subsequent orders the lead time is six weeks ARO or less.

Additional Information.

More Information on the 215 Series (Higher Ampere Rating) fuses is available from Daniel Wang, Product Manager, [email protected], or by visiting www.littelfuse.com, or by contacting your local Littelfuse Technical Support expert.

For circuit protection application design ideas, please visit the new Application Design Center section of the Littelfuse web site.

If you have questions or require technical support please contact the Littelfuse technical support hotline at 1-800-999-9445.

About Littelfuse

As the worldwide leader in circuit protection products and solutions with annual sales of $536.1 million in 2007, the Littelfuse portfolio is backed by industry leading technical support, design and manufacturing expertise. Littelfuse products are vital components in virtually every product that uses electrical energy, including automobiles, computers, consumer electronics, handheld devices, industrial equipment, and telecom/datacom circuits. Littelfuse offers Teccor®, Wickmann® and Pudenz® brand circuit protection products. In addition to its Des Plaines, Illinois, world headquarters, Littelfuse has sales, distribution, manufacturing and engineering facilities in Brazil, China, England, Germany, Hong Kong, India, Ireland, Japan, Korea, Mexico, the Netherlands, the Philippines, Singapore, Taiwan and the U.S.

For more information, please visit Littelfuse's web site at www.littelfuse.com.