Cartridge Collectors handle variety of applications.
Press Release Summary: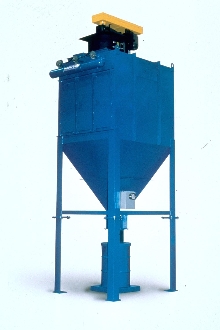 Cartridge-type dust collectors are available in large range of machine sizes. Each uses on-line, compressed-air pulse cleaning system with venturis, diaphragm valves and electronically controlled solenoid valves. Fabric filter dust collector uses high inlet with down-flow to force dust-laden air toward hopper, allowing heavier dust to drop out before reaching filter bags. This permits higher air to cloth ratios and decreases size of collector.
---
Original Press Release:
USFilter SPG Expands Dust Collector Product Line

CANADA - (October 26, 2001) - USFilter SPG, a leading manufacturer of Dust Collection Systems, announces a significant expansion to their Dust Collector product line. In addition to a brand new fabric filter design, the company now offers a larger variety of cartridge style collectors.

The expanded series of cartridge type dust collectors offers new, more varied cartridge configurations, making it easier to accommodate a larger range of applications and offer more flexibility to customers. More options for cartridge placement mean that USFilter SPG can offer a larger range of machine sizes to suit location and application needs, and can address the requirements of each application, including ventilation concerns and space constraints.

USFilter SPG cartridge style dust collector units utilize an on-line, compressed air pulse cleaning system with venturis, diaphragm valves and electronically controlled solenoid valves to ensure that optimum cleaning pressure and flow characteristics are achieved consistently throughout the cleaning cycle. At the heart of the system are multi-pleated element cartridges manufactured by MPF Engineered Filters, a division of USFSPG.

USFilter SPG also introduces a new fabric filter dust collector with an innovative top inlet design. The high inlet with a down-flow design forces dust laden air down towards the hopper, allowing heavier dust to drop out before it reaches the filter bags. This design permits higher air to cloth ratios, thus decreasing the size of the dust collector without sacrificing performance.

USFilter SPG, designs and manufactures dust collection systems to control airborne contaminants that result from industrial processes. USFilter SPG dust collectors provide a high quality, low maintenance method of dust collection in a broad range of applications. USF Surface Preparation Group, a division of USFilter, is the global leader in providing surface preparation equipment, supplies and services. Strategically located manufacturing and distribution facilities allow USF Surface Preparation Group to provide unparalleled customer service and support worldwide. USFilter is a Vivendi Water company, the leading global provider of commercial, industrial, municipal and residential water and wastewater treatment systems, products and services, with operations in more than 100 countries. Together, Vivendi Water, Onyx (solid waste and industrial services), Dalkia (energy management), and Connex (transportation and logistics) comprise Vivendi Environment, the largest environmental services company in the world with annual revenues of more than $23 billion.

More from Chemicals & Gases