Cleaning Compounds and Chemicals
Cartridge Cleaning System performs incremental-spin cleaning.
Press Release Summary: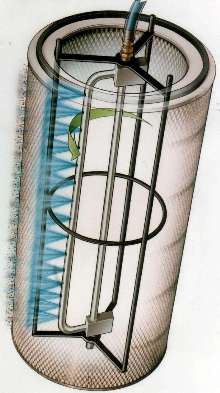 Roto-Pulse(TM) cleans entire length of dust collector cartridges by focusing incremental, controlled blasts of air into each section. Stainless steel rotating tube with pre-drilled holes rotates to distribute pulse of air. Number of increments per revolution, as well as time between pulses, is user-adjustable. Product is used on proprietary cartridge model air cleaners and dust collectors from 600-50,000 cfm.
---
Original Press Release:
Improved Roto-Pulse(TM) Cleaning System Extends Filter Life
The improved Micro Air® Roto-Pulse(TM) cartridge-cleaning system, exclusively available from Micro Air® Clean Air Systems, now features incremental-spin cleaning and a 5-year limited warranty. Not only does Roto-Pulse clean the entire length of the dust collector cartridge, but it focuses incremental, controlled blasts of air into each section of the cartridge for more concentrated and complete cleaning of cartridge-clogging dust. Advantages over conventional backflush systems: o Extremely quiet operation. o Lower SCF requirements. o More efficient cartridge cleaning per pulse. o Longer cartridge filter life, lower maintenance cost. Cartridge filters are cleaned by pulsing air into a specially designed stainless steel rotating tube with pre-drilled holes. As air enters the tube it incrementally rotates a number of degrees, distributing the pulse of air across the length of the inside surface of the cartridge, dislodging dirt from the outside of the cartridge. The number of increments per revolution can be adjusted, as well as the time between pulses, for maximum flexibility. In many cases the Roto-Pulse cartridge cleaning system is more than 10 dba quieter than reverse pulse systems. The Roto-Pulse directs blasts of air into smaller portions of the filter to eliminate the "Bang" and inefficiencies associated with traditional cleaning systems. Roto-Pulse is used on all Micro Air cartridge model air cleaners and dust collectors including portable, source capture, ducted and general capture models from 600 to 50,000 CFM. The Micro Air Clean Air Systems line provides a complete offering of source capture units, ambient air cleaners, dust collectors, and mist collectors for a variety of industries. Micro Air, P.O. Box 1138, Wichita, KS 67201, (316) 943-2351, FAX (316) 943-2717, www.microaironline.com, e-mail: info@metal-fabinc.com
More from Chemicals & Gases