Cartridge Check Valve solves mounting problems.
Press Release Summary: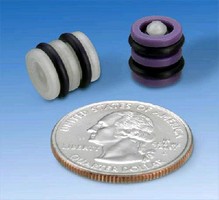 Used in liquid and air applications, Model 132 Micro Check Valve incorporates cylinder-shaped design with double external O-rings, which ensure positive seal, eliminating distortion. Designed to fit any 3/8 in. ID hole, whether drilled, milled, or molded, valve offers mounting options for manifolds, assemblies, or passages. Model 132 comes in choice of materials and range of opening pressures from 0.10-20 psi with water flow rate of 1.7 lpm at 5 psi.
---
Original Press Release:
New Cartridge Check Valve Solves Mounting Problems
New precisely engineered, micro check valve suitable for many industry applications Smart Products, Inc., (http://www.smartproducts.com) recently introduced its new 132 Side Seal Cartridge Check Valve. Used in liquid and air applications, this micro check valve solves the mounting problems typically associated with traditional check valves. Incorporating a cylinder-shaped design with external sealing o-rings, the 132 Side Seal Cartridge Check Valve offers users convenient mounting options for manifolds, assemblies, or passages. The 132 Check Valve fits any 3/8" I.D. (inner diameter) hole -- whether drilled, milled, or molded. The double external o-rings ensure a positive seal, eliminating the distortion typically caused by press fitting valves. Available in a choice of materials and a range of opening pressures from 0.10 to 20 PSI, the 132 Side Seal Cartridge Check Valve delivers a water flow rate of 1.7 LPM at 5 PSI. The valve is used for various applications across a wide range of industries including medical, food and beverage, water treatment, ink manufacturing, automotive, marine, or any application requiring a manifold or panel-mounted check valve. Smart Products cartridge check valves provide accurate, reliable control of fluid or gas in low pressure, low flow OEM systems and are often a cost effective alternative to metal valves, which are subject to corrosion. The valves feature a low inertia poppet design and double-tapered o-ring seats for a fast, positive seal. About Smart Products, Inc.: Founded in 1984, Smart Products, Inc., located in Morgan Hill, California, manufactures a unique line of check valves and pressure relief valves. Designed to allow a virtually limitless number of possible combinations to fit specific needs, the valves are used in a wide range of applications, including medical diagnostic and treatment, gas analysis, filtration, beverage dispensing, printing, and many others. Over 3 million check valve combinations are possible by selecting from standard components. The company also offers custom design capabilities, special testing, and custom assemblies. Contact Us: Website: www.smartproducts.com Technical Sales: 800-338-0404 or 408-776-3035
More from Architectural & Civil Engineering Products