Cartoning Machine suits cosmetic/pharmaceutical industries.
Press Release Summary: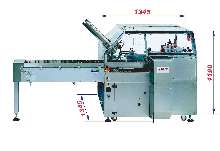 Model KP 600 produces 60 units per minute. Additional station allows separation of case sealing from introduction station, making rotative coding possible. Station also allows integration of ink jet marking, hot marking, hot-melt, camera monitoring, and bar code reading. Conveyor belts prevent scratching of cases. Vacuum pump, well-dimensioned cartons, and leaflet magazine allow autonomous operations.
---
Original Press Release:

Kalix Introduces Its New KP 600 Cartoning Machine for the Cosmetic and Pharmaceutical Industries


Chicago, June 20, 2003

The French company Kalix, one of the world's leading manufacturers of filling and cartoning machines for cosmetic and pharmaceutical products, recently launched the new KP 600 cartoning machine on the North American market. Originating from the previous "KPS" generation of cartoning machines and equipped with all of the latest technology, the KP 600 improves the effective production rate from 45 to 60 units per minute. Its new features include a more sturdy structure, reinforced mechanical elements (elimination of cantilevers, ball tracks, etc.), and improved sealing stations with two independent mechanical actions.

The machine is equipped with an additional station allowing the separation of the case sealing from the introduction station and making rotative coding possible. This station also makes it possible to integrate options such as ink jet marking, hot marking, hot-melt, camera monitoring, and bar code reading.

The KP 600 cartoning machine provides autonomous operations thanks to its vacuum pump and its well-dimensioned cartons and leaflet magazine.

As with the previous model, the conveyor belts are designed to prevent scratching the cases. The positive opening and closing of cases ensure a very high operational efficiency. The KP 600 is designed for format changes in less than ten minutes by the operator and for reduced maintenance operations.

A wide range of distribution of the product in the primary chain is available in the form of independent modules.

By its greatly reduced use of floor space (14 sq. ft.), its ergonomic design, and its flexibility, the new KP 600 cartoning machine from Kalix is today the machine that guarantees the greatest production per sq. ft. and per person as well as the best return on investment compared with all other machines on the market. Kalix cartoning machines are used by many cosmetic companies worldwide including L'Oréal, Estée Lauder, Yves Rocher, Avon, Clarins, Dior, Puig, Nina Ricci, Wella - Rochas, and Sisley.

For more information, please contact:
Mr. Albert Woodward or Mr. Richard Talbot
KALIX NA
230 Industrial Park Way
Branchburg, NJ 08876
Tel.: (908) 707-8008
Fax: (908) 707-0073
E-mail: albert.woodward@norden-pac.se
or richard.talbot@norden-pac.se
Web: www.kalix.fr

or

FRENCH TECHNOLOGY PRESS OFFICE
205 North Michigan Avenue, Suite 3740
Chicago, IL 60601
Tel: (312) 327-5260
Fax: (312) 327-5261
E-mail: contact.ftpo@ubifrance.com

More from Machinery & Machining Tools