Cartoner suits pharmaceutical and cosmetics industries.
Press Release Summary: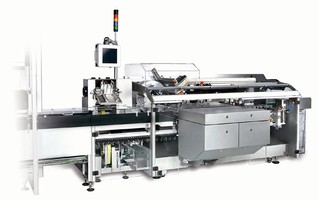 With low to medium machine outputs of up to 200 cartons/min, CARTOPAC SC 5 is 5 in. pitch machine that features servo-driven technology, space-saving footprint, and modular design. Using cycloidal gear design, cartons are picked up from carton magazine by rotating 1 or 2-arm suction system. Linear motion arm and overload protection ensure gentle product loading, while skip-feed system rejects and sends unloaded products into separate reject bins.
---
Original Press Release:

The OYSTAR USA Pharmaceutical Packaging Division Introduces the OYSTAR IWK CARTOPAC SC5 Cartoner



Provides an affordable solution that is available for rapid delivery

FAIRFIELD, NJ -The OYSTAR USA Pharmaceutical Packaging Division (formerly IWKA PacSystems) introduces the OYSTAR IWK CARTOPAC SC 5 continuous cartoning machine to the U.S. marketplace. The CARTOPAC SC 5 is a 5" pitch machine that features servo-driven technology which is specifically designed for applications in the pharmaceutical and cosmetics industry. The space-saving footprint and modular design allows for easy add-ons and retrofits of machine functions to optimize packaging process requirements. With low to medium machine outputs of up to 200 cartons per minute, it is ideal for traditional cartoning applications such as bottles, blisters and tubes.

Using a unique cycloidal gear design, cartons are picked up from the carton magazine by a rotating one or two arm suction system. Gentle product loading into the carton is guaranteed with an improved linear motion arm and overload protection. Through its skip-feed system, products and/or leaflets that are not loaded into cartons are rejected into separate reject bins. Additionally, size changeovers are easy, reproducible and almost tool-free.

Previously known throughout the industry as IWKA, the newly formed OYSTAR is one focused group of companies exclusively dedicated to the processing and packaging needs of the pharmaceutical, cosmetic, dairy and food markets. The new company name, OYSTAR is derived from "oyster," nature's single-source solution to process and packaging which reflects the group's capabilities.

OYSTAR USA is the new name of the N.J.-based organization that oversees the sales, service and support for a collected group of former IWKA (now OYSTAR) machinery manufacturing sister companies serving the pharmaceutical, cosmetic and food industries in North America. OYSTAR USA has three divisions: the Pharmaceutical Packaging Division, the Pharmaceutical Process Division, and the Food Packaging Division.

OYSTAR USA Pharmaceutical Packaging Division is located in Fairfield, New Jersey. For more information, call (973) 227-5575, or visit the website at www.oystarusa.com.

contact:

CLIENT

Bernie Conlon

(973) 227-5575

bconlon@oystarusa.com

More from HVAC