Carton Labeler labels boxes prior to erection/assembly.
Press Release Summary: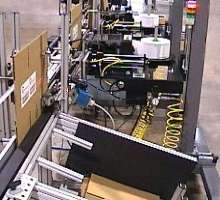 System accommodates extensive range of carton sizes with nominal changeover and down time. Infeed hopper accepts hundreds of knock-down cartons, hand-loaded by operator. Belts, with guide rails and fully adjustable top hold down, feed and transport corrugated boxes past label printer/applicator. Applicator can be mounted in reels-up, nose-up, or nose-down position, and labels can be applied on leading panel, side panel, or around corner.
---
Original Press Release:
Label Printer Applicator for Knock-Down Carton Labeling

ID Technology introduces a new approach to carton labeling, a system designed to apply labels to corrugated boxes prior to their erection and assembly. Thus, accommodating an extensive range of carton sizes with nominal changeover and down time.

Hundreds of Knock Down (KD) cartons are hand-loaded by an operator into an infeed hopper. A system of belts with guide rails and a fully adjustable top hold down, feed the cartons toward the transport unit and past the label printer applicator(s). The applicator can be mounted in a reels up, a nose up or a nose down position, this is dependent on the label format and information required.

Labels can be applied on the leading panel, side panel or around the corner. Although decorative label applicators can be integrated into this system, the most common applications call for an ID Technology Model 250 Label Printer Applicator. The Model 250 prints and applies variable information labels including, barcodes, date codes, lot and batch numbers. Once the carton has been labeled it travels to the adjustable outfeed hopper bin where the cartons are stacked for easy removal by the operator.

ID Technology is a national supplier of labeling, coding and marking systems, as well as, peripheral equipment and supplies.
More from Labels Tags Signage & Equipment