Carton-Forming Machine erects top-load cartons and trays.
Press Release Summary: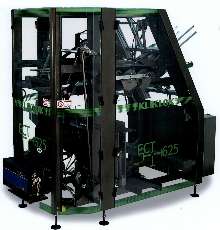 Model ECT-625 employs 4-station rotary turret design for continuous carton-blank control, short movements, and smooth forming action. Cartons are formed with hot-melt adhesive, delivered from pressurized-nozzle applicator. Available in single- and double-head configurations, system offers speeds to 75 cpm (single cavity) and 140 cartons/trays per minute (double cavity). Fully automated machine erects various carton shapes via size-change parts.
---
Original Press Release:
ECT-625 Hot-Melt Forming Machine Erects Top-Load Cartons and Trays

Kliklok-Woodman's ECT-625 carton forming machine employs a 4-station rotary turret design for continuous carton blank control, short movements and smooth forming action. Cartons are formed with hot-melt adhesive, applied from a pressurized nozzle applicator, for exceptional package strength and rigidity. The system is available in single or double-head configurations with speeds to 75 CPM (single cavity) or 140 cartons/trays per minute (double cavity).

The ECT-625 operation is fully automatic. At its first stage, the turret style head receives carton blanks from an easily-loaded, adjustable, low-elevation powered hopper. Blanks are drawn to the forming mandrel, which incorporates vacuum carton hold-down, to maintain precise carton control. Adhesive is then applied to the corners of the carton from a pressurized application system with various options for special adhesive patterns. The body of the carton is folded in place by a reciprocating cavity that provides double compression action for improved bonding. Formed cartons are mechanically ejected and positively stripped from the forming head onto an integrated take-away conveyor for direct transfer onto packing conveyors.

A large size range and a variety of carton shapes can be erected through the use of simple size change parts. The ECT-625 can operate as a stand-alone tray-forming unit, or it can be linked to an entire system with automatic product loading and carton closing machines.

For additional information, contact:

Mr. Curt Kuhr

Kliklok-Woodman

5224 Snapfinger Woods Drive

Decatur, GA 30035

Phone: 770-981-5200

Fax: 770-987-7160

e-mail: press@kliklok-woodman.com

http://www. kliklok-woodman.com
More from Test & Measurement