Carton Erector and Closer handles 30 cartons per minute.
Press Release Summary: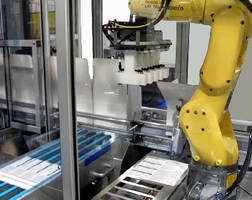 Using vacuum arm, Model VC 30 picks auto-bottom type display and shelf cartons from 1 m carton magazine, erects carton, and conveys it to optional TaskMate® Robotic Loading System. Cartons then convey to closer or may also be manually closed. Optional TaskMate® System integrates FANUC multi-axis robot with ESS-designed custom EOAT to collate products and load them into erected carton. To allow serialization, VC 30 integrates with track and trace systems from OEM suppliers.
---
Original Press Release:

New VC 30 Carton Erector / Loader / Closer for Display Cartons and Shelf Cartons Can Integrate with Track & Trace Systems



Blacksburg, VA — ESS Technologies, Inc. introduces the VC 30 Carton Erector and Closer with TaskMate® Robotic Loading System. The VC 30 uses a vacuum arm to pick auto-bottom type display and shelf cartons from the 1-meter carton magazine, erect the carton, and convey it to the optional TaskMate® Robotic Loading System. The VC 30 can also be designed to accommodate manual carton loading. Cartons then convey to the closer, or the cartons may also be manually closed. The system will handle up to 30 cartons per minute.



The optional TaskMate® Robotic Loading System integrates a FANUC multi-axis robot with ESS-designed custom end-of-arm tooling (EOAT) to collate products and load them into the erected carton. When the VC 30 is integrated with upstream primary packaging equipment, the TaskMate® system may also perform as an automatic reject system for incorrect product. The FANUC LR Mate 200iD robot is standard, but a number of robot models may be specified, depending on the speed and product handling requirements. The loading system may also include automatic placement of pre-folded leaflets or booklets.



Loaded cartons convey to the automatic tuck flap closing station (standard) or hot-melt glue closing station (optional). The VC 30 can also accommodate manual leaflet insertion and manual case closure. The complete system offers pharmaceuticals, nutraceuticals, cosmetics, and consumer goods manufacturers a flexible solution for automating some, or all, of their manual carton loading process.



All mechanical movements are mounted with self-lubricating bushings and bearings. The machines offer simple and quick size changeover using digital indicators located at the adjustment points. The clean design guarantees complete accessibility to all areas and easy maintenance. The VC 30 uses the Allen Bradley CompactLogix® control platform and comes standard with the AB PanelView 600 Plus touch screen HMI.



The VC 30 easily integrates with track and trace systems from OEM suppliers to allow serialization of the products and cartons. The OEM equipment codes the products with unique identification then reads the code as the product is collated for loading. Once the complete pattern is formed, the robot picks the group and passes it across an OEM-supplied vision inspection system to record the product IDs on the track and trace system's PC. The OEM system can then provide a means to mark the carton, either with a label or some form of coding, to complete the serialization. ESS Technologies has worked with a number of camera and inspection system suppliers to create complete track and trace carton loading and case packing systems.



About ESS Technologies, Inc.

ESS Technologies, Inc., founded in 1993, specializes in complete packaging line design, equipment manufacturing, and integration. Our expertise includes filling/capping equipment, cartoners, robotic case packers, wrap around case packers, robotic palletizing systems, and integrated robotics. Engineered for reliability and efficiency, ESS Technologies' products offer you tomorrow's packaging technology today.



Contact Information

Kim Norris, ESS Technologies, Inc.

3160 State Street

Blacksburg, VA 24060

(540) 961-5716

knorris@esstechnologies.com