Cart Mover pulls and pushes loads up to 50,000 lb.
Press Release Summary: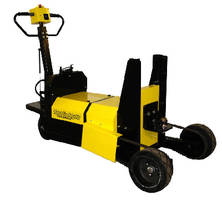 Featuring 6 hp motor that can provide up to 1,600 lb of horizontal push/pull force, chain-drive CartCaddyHD replaces need for lift truck in heavy cart and equipment pulling applications. Unit gets traction by transferring weight from load to drive wheels with 5,000 lb electric lift kit. Mover is suitable for carts with casters or carts on rails that go straight forward or backwards.
---
Original Press Release:

New CartCaddyHD Chain Drive Cart Mover Pulls and Pushes Loads up to 50,000 lbs



DJProducts, Inc. is the world leader in providing battery-powered carts and cart movers to the manufacturing, hospital, and retail industries. They provide solutions that eliminate the pains and strains associated with manually pushing heavy carts and wheeled equipment, or are less costly, smaller, and more maneuverable then traditional equipment like forklifts and pallet jacks that are not designed to push/pull wheeled carts and equipment.

The new cart mover has a powerful 6 hp motor that can provide up to 1600 lbs of horizontal push/pull force, replacing the need for a lift truck in heavy cart and equipment pulling applications. The CartCaddyHD cart mover gets its traction by transferring weight from the load to its drive wheels with a 5000 lbs electric lift kit. The mover works well on a cart with casters or carts on rails that go straight forward or backwards. Also, heavy trailers with lots of tongue weight can easily be lifted and moved with the CartCaddyHD Cart Mover.

Workplace injury and illness costs American businesses $171 billion annually. Workers' compensation claims add another $60 billion to that annual price tag. More than a quarter of those claims are for back injuries from repetitive lifting, pulling a cart, pushing and straining, according to the National Council on Compensation Insurance. OSHA reports that back injuries cost U.S. businesses $12 million in lost workdays and $1 billion in compensation costs each year. The time-lost cost of a single injury is estimated at $26,000.

Ergonomics has been repeatedly proven to significantly reduce back and other repetitive stress injuries like carpal tunnel syndrome. Businesses that institute ergonomic practices and use ergonomically-designed equipment, like DJ Products cart mover, realize immediate and significant reductions in injury rates and associated medical, insurance, disability, workers compensation and lost man-hour costs. The proactive implementation of ergonomic policies improve worker morale and increase operations efficiency and productivity.

For more information about applications and environments conducive to a heavy duty cart mover application, call DJProducts at 1-800-686-2651, or visit them at http://www.djproducts.com/

More from Software