Cart/Assembly Station features anti-static design.
Press Release Summary: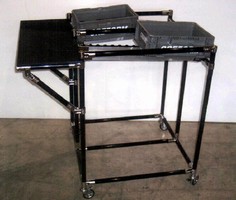 Constructed using ESD static dissipative components, Mobile Cart features shelf type work area plus conveyor-style tote box lanes to hold and present parts. Because unit is transportable, it can be taken to various assembly points or locations in need of electronics repairs. System consists of pipe sections and metal or plastic joints. Metal joints are available with nickel plating to dissipate static, plus selection of height adjusting feet, grounding end caps, and casters.
---
Original Press Release:

Anti-Static Mobile Cart & Assembly Station Sparks Interest



Creform® Corporation, Greer, SC, has introduced a new material handling/logistics concept for operations relating to the handling of electronic processors, chips, memory boards and CPUs during assembly and transport. The concept also is ideal for maintenance personnel who work with such products during removal, repair, and replacement procedures. The problem in such applications is static-and the Creform solution is dynamic...mobile carts with workbench style surfaces and storage space.. .all constructed using the Creform System's ESD static dissipative components. This simple yet effective cart, features a shelf type work area plus conveyor-style tote box lanes to hold and present parts. Because the unit is easily maneuverable and transportable, the cart can be taken to various assembly points, or to locations in need of electronics troubleshooting and repairs, carrying spare parts, assembly components and tool kits. The work surface then provides a stable area for completing the necessary assembly or repair procedures. The entire construction, including Creform's pipes, joints, hardware accessories and the casters along with the work surface material are ESD-rated to protect vulnerable circuitry from static spikes and surges.

Importantly, though, is the fact that the mobile assembly cart is only an example of the possible, virtually limitless configurations that can be employed, thanks to the Creform System, an adaptive approach to material handling and lean manufacturing that allows its users to easily and quickly design, fabricate and assemble structures best suited to their own application requirements.

For ease of construction in applications, the Creform system consists of pipe sections that are cut to required plan lengths with either a manual pipe cutter, powered pipe cutter, band saw or chop saw. For assembly, the system utilizes either metal joints that tighten onto pipe sections via a threaded fastener, or plastic joints that are 'welded' to the pipes with adhesive. If part needs change or operations are modified, the use of metal joints allows stands to be disassembled and reconfigured using most of the existing components, thus saving costs.

The entire lineup of ESD elements within the Creform System consists of parts with antistatic coatings and conductive plating that eliminate static build-up. The ESD components include 028mm standard size pipe, flat-sided slide pipe, and a L-channel slide pipe. ESD pipe sections are offered in black, light gray and ivory colors. The black and light gray ESD pipes feature a completely conductive surface while the ivory pipe features a surface applied to black conductive stripe. Most Creform metal joints are available with a nickel-plating to dissipate static, plus a selection of height adjusting feet, grounding end caps, a variety of casters and a 'skatewheel' style conveyor section are ESD rated, too. A new 042mm size pipe, up to 2.5 times stronger than the standard pipe, is also available for ESD applications.

This wide range of ESD-rated components, along with a wide range of accessories push the potential applications to include stationary workstations, single- and multi-level flow racks that ergonomically position and orient electronic parts for assembly, or for traditional push cart and trailer designs that transport circuitry parts throughout facilities as well as custom material handling structures.

Visit www.creform.com for additional information regarding Creform Corporation and its products.

More from Fluid & Gas Flow Equipment