Cart allows workers to dig deep into containers.
Press Release Summary: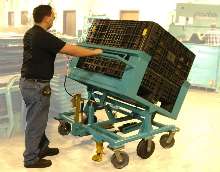 Ergo-Cart tilts high-wall containers up to 30°, presenting parts within reach of employee's ergonomic window. Product carries loads across plant floors on 6 wheels and is offered in 2 versions: one with purely mechanical tilt for loads up to 400 lb, and one equipped with hydraulic damper for controlled tilt of up to 3,000 lb loads. Pulled by tugger or small, motorized cart, cart can be positioned using 35 lb of force and locked into place via foot pedal.
---
Original Press Release:

New Cart Allows Workers to Dig Deep into Containers


(Sturtevant, WI) - The deep containers are necessary to get large parts to and from the assembly line. Deep containers also enable employees to have a larger quantity of parts, minimizing changing over empty and full cases.

But, accessing these high-wall containers can be a real strain on the back, especially for shorter employees. A new Ergo-Cart from TOPPER INDUSTRIAL tilts these large containers up to 30° so workers can reach all the way to the bottom, all day long.

As with all Ergo-Carts, this latest model carries loads across plant floors while eliminating the danger of forklift traffic, and presents parts within the reach of the employee's "ergonomic window.

TOPPER makes available two versions of the cart. One has a purely mechanical tilt for loads up to 400 lbs. For loads up to 3,000 lbs, the cart has a hydraulic damper for a controlled tilt. For this type, a squeeze handle allows automatic stop positions at any angle. Strong cables on both versions provide hundreds of thousands of tilt cycles.

The cart rolls easily across any plant floor on six rugged wheels. This Large Container Ergo-Cart travels long distances of many yards, pulled by a tugger or small motorized cart and connecting to these vehicles with an easy release hitch. The carts can be coupled together to form a train for multiple drop-offs. The wheels have lubricated, sealed bearings and need no maintenance.

Once the cart reaches its destination, the worker can position the unit using just 35 lbs of force. A foot pedal locks the cart into place. This ease of movement brings another ergonomic benefit, enabling the cart to be positioned comfortably during course of a shift.

As with all of its products, TOPPER INDUSTRIAL can provide timely and cost-effective custom versions of the Large Container Ergo-Cart. Options include a hand brake that slows and assists in stopping a rolling cart.

TOPPER INDUSTRIAL has 30 years experience in making fabricated products including steel material handling containers, custom material handling racks, non-powered over and unders and many specialty items for industrial applications nationwide.

For more information:

Ed Brown/TOPPER INDUSTRIAL
1729 E. Frontage Rd.
Sturtevant, WI 53177
1-800-529-0909
sales@topperindustrial.com
topperindustrial.com/sub/carts.html

More from Services