Carrier-Telecom E1/T1 Baluns and Panels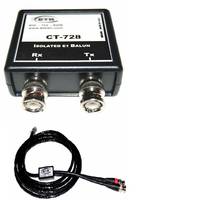 Balance your data processing signals passively!
The ETS CT-710, 720, 730, 740 Series of baluns and panel enables G.703 equipment to use and operate over UTP cable. The E1/T1 baluns and panels convert the unbalanced G.703 signal 75 ohm coax from the router to a well balanced 120 ohm for E1 (100 ohm for T1) signal for low loss transport.
All ETS E1/T1 Baluns and Panels are passive and enable the sending of bi-directional signals. E1 transmission is supported at 2.048 Mbps and T1 transmission is supported at 1.544Mbps.
These Carrier Telecom products are available in non-isolated designs for protection against ground loops. These devices also solve the mismatches between coax and UTP cable equipment.
Only Neutrik connectors are used in ETS products.
Visit! Energy Transformation Systems, Inc. Website: www.etslan.com
About ETS - Woman Owned Small Business
Fremont, CA - Since 1967, beginning with custom-made transformers and continuing since 1981 as innovators of balun, hub, adapter and splitter technology, ETS provides a wide range of media conversion solutions for audio, data and video for analog or digital installations over structured wiring systems. ETS provides you solutions with 100% guaranteed USA-Made products.
Energy Transformation Systems,
43353 Osgood Rd., Unit B,
Fremont, CA 94539
Sales Contact:
Name: Sylvia Presley,
ETS Sales
Email address: sylviaets@etslan.com
800-752-8208
510-656-2012
(F) 510-656-2026
More from Fluid & Gas Flow Equipment