Carrier Card interfaces XMC mezzanine modules to PCIe bus.
Press Release Summary: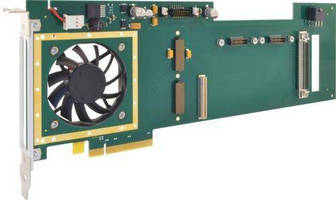 Accommodating data transfer requirements of high-performance industrial and scientific research computing systems, APCe8675 enables PC to communicate with XMC mezzanine module over PCIe bus. One XMC socket interfaces up to 8 serial I/O lanes to carrier's PCIe x8 edge connector, while another XMC socket routes to one pair of 4-lane serial ports for board-to-board connections that support up to five high-speed (5 Gbps) transmit/receive differential or LVDS pairs.
---
Original Press Release:

Acromag's New Carrier Cards Interface XMC Mezzanine Modules to PCI Express Bus for PC-Based Embedded Systems



Acromag's new APCe8675 card routes power and PCIe bus signals to an XMC mezzanine module for high-performance signal processing in a desktop computer or laboratory prototype system.



WIXOM, Mich. -- Acromag's APCe8675 carrier card offers a simple and cost-effective solution that allows a PC to communicate with an XMC mezzanine module over a PCI Express (PCIe) bus. System developers can insert Acromag's FPGA modules or other XMC modules on the carrier card to perform a variety of signal processing functions. The carrier's PCIe x8 interface supports up to eight serial lanes for rapid data transfer between the plug-in XMC module and the host computer. These carriers are ideal for high-performance industrial and scientific research computing systems. They are also useful to test advanced systems for defense and aerospace applications that will be deployed later on rugged embedded computer platforms such as VME, VPX, or CompactPCI. Standard model, single unit pricing starts at $700.



"Now system developers can build powerful computers with an array of FPGA modules using a high-speed interconnect fabric similar to those of high-end VPX systems, but in a low-cost PC chassis," noted Joseph Primeau, Acromag's sales and marketing director. Several rear I/O connectors enable high-speed serial interfaces between neighboring carrier boards using XAUI or Aurora protocols. These ports simplify board-to-board connections with twinax or internal SCSI-3 cables to left and right adjacent carrier cards.



One XMC socket interfaces up to eight serial I/O lanes to the carrier's PCIe x8 edge connector. The other XMC socket routes to a pair of 4-lane serial ports for board-to-board connections that support up to five high-speed (5Gb/s) transmit/receive differential or LVDS pairs. A 64-pin PMC rear I/O socket routes 32 LVDS I/O to a SCSI port for additional board-to-board communication.



An integrated fan provides a constant airflow across the XMC module since most PCs cannot provide sufficient cooling to dissipate heat generated by large FPGA devices. The carrier card is also ready for use with a conduction cooling thermal frame.



Acromag offers many compatible XMC FPGA modules with configurable logic elements for algorithm acceleration, DSP, communication, and adaptive computing functions. Typical applications include image processing, simulation, protocol conversion, signal intelligence, and in-circuit diagnostics.



Software development tools are available for VxWorks, Linux, and Windows environments. These function libraries provide example routines or DLL driver support with C source code to save time.



About Acromag



Acromag has designed and manufactured measurement and control products for more than 50 years. They are an international corporation with a world headquarters near Detroit, Michigan and a global network of sales representatives and distributors. Acromag offers a complete line of industrial I/O products including process instruments, signal conditioning equipment, data acquisition boards, distributed I/O modules, and network communication devices.



www.acromag.com



All trademarks are the property of their respective owners.



CONTACT: Robert Greenfield, Marketing Communications Manager, Acromag, Inc., Phone: 248-295-0865, rgreenfield@acromag.com

More from Computer Hardware & Peripherals