Carrier Board/IDE Device Controller has PC/104 form factor.
Press Release Summary: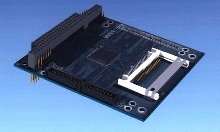 Compact Flash and IDE Adapter module PC/104 board serves as both carrier for Compact Flash disk drive and controller for up to 2 IDE devices. Board provides PC/104-based system supplemental IDE (Intelligent Drive Electronics) controller that is configurable as either primary or secondary controller to CPU. Compact Flash memory card drive can be addded through onboard Compact Flash socket. 2.5 in. hard drive can be connected via its 44-pin 2mm connector.
---
Original Press Release:
parvus Ships New Compact Flash Carrier Board and IDE Device Controller for PC/104 Computer Systems

SALT LAKE CITY, UTAH - FEBRUARY 21, 2002 parvus Corporation today announced the release of its Compact Flash & IDE Adapter module, a versatile PC/104 board that serves as both a (1) carrier for a Compact Flash disk drive and a (2) controller for up to two IDE devices, such as hard disk or CD-ROM drives.

The board gives a PC/104-based system a supplemental IDE (Intelligent Drive Electronics) controller that is configurable as either a primary or secondary controller to the CPU.

The board supports adding a Compact Flash memory card drive through an onboard Compact Flash socket, which can be jumpered for Master or Slave settings. A 2.5" hard drive can be connected via its standard 44-pin 2mm connector. Because of the 16-bit PC/104 bus design, the board does not require a cable connection from a CPU board.

APPLICATIONS
The board can be used in a variety of rugged, mobile computing and embedded systems applications where program and data storage is desired. parvus products are commonly found in microcomputing devices used in the avionics/aerospace, defense, factory automation, light industrial, medical, telecom and transportation fields.

FEATURES/SPECIFICATIONS
* 44-pin 2mm IDE connector cable
* Compact Flash socket
* Small PC/104 form factor
* Built-in IDE controller
* 2.5" hard drive compatible
* Rugged performance and environmental specs
* 5V voltage operation
* No external 40-pin cable needed
Related