Carrier Board connects I/O to CompactPCI systems.
Press Release Summary: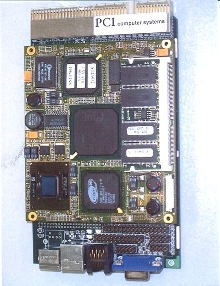 ETX single-board computer carrier board module supports peripheral and network connections, enabling accelerated development of embedded systems. Via miniature connectors, PCI bus, ISA bus and I/O signals such as serial ports, parallel port, USB ports, video and LCD signals, Ethernet, keyboard, mouse and audio interface are brought to baseboard, eliminating need to design special interfaces or make custom product fit available interfaces.
---
Original Press Release:
PCI AUTOMATION INC. UNVEILS NEW ETX CARRIER BOARDS FOR COMPACTPCI TO SPEED AND SIMPLIFY RUGGEDIZED EMBEDDED DESIGNS WITH HIGH-PERFORMANCE CPU'S

Antioch, CA. Dietzenbach, Germany
December 5, 2001 -- PCI automation Inc., a leading supplier of CompactPCI boards, complete systems and PC-MIP modules for embedded applications, today announced new carrier boards for CompactPCI for the efficient delivery of high performance CPU technology, enabling accelerated development of embedded systems.

PCI automation Inc. expects its new ETX modules to drive another standard that accommodates advanced generations of microprocessors.

The ETX platform is a complete single-board computer (SBC) in a small module that interfaces with a carrier board via the PCI bus, the ISA bus and a set of I/O signals supporting direct peripheral and network connection. It significantly enhances time-to-market for embedded systems that combine a CPU subsystem with application-specific logic.

Since the interface to the baseboard is the industry-standard PCI bus and I/O as well as the ISA bus, the ETX platform transparently supports a wide variety of processor architectures. While the first ETX module introduced today is based on Intel technology, PCI automation Inc. expects it will offer as many as six ETX modules to the market within the next twelve months supporting both Intel and PowerPC processor technologies.

"Very few high volume applications can justify the design of a custom CPU , stated Claus Gross, PCI automation Inc.'s President. "For cost reasons the majority of designers must utilize a CPU subsystem made with off-the-shelf components."

Until recently, Mr. Gross explained, OEM's had to design a CPU subsystem into their product or choose an off-the-shelf computer board that either requires a card cage and backplane (such as VME or CPCI) or some other mechanically lower performance form-factor bus expansion boards. Many designers had to design their own CPU subsystem into their application, in spite of the extended design time. "With ETX modules," he stated, "designers have a magnificent choice: combine a proven low cost CPU subsystem and peripherals without packaging or form-factor constraints to their application-specific OEM board."

The ETX platform works like a highly integrated chip, interfacing directly to any form-factor system board containing application-specific logic and I/O connections. ETX technology coupled with advanced real-time operating systems (RTOS) allows designers to focus their design resources on their application-specific system board and application software. All that is needed for the OEM subsystem is a powerful ETX module with the CPU of their choice.

About the ETX Platform

ETX Modules interface to a baseboard through 4 miniature connectors. PCI bus, ISA bus and I/O signals like 2 serial ports, a parallel port, 2 USB ports, video and LCD signals, Ethernet, keyboard and mouse and an audio interface are brought to the baseboard through these connectors.

ETX modules are 100mm x 95mm (3.94" x 3.92") allowing wide flexibility in OEM baseboard form-factors.

Since PCI automation Inc. believes that the ETX Platform will become the basis for an industry standard , PCI automation Inc. will provide ETX form-factor details to third parties to enable rapid growth in ETX -compatible products and enhance the acceptance of the platform.

Price and Availability

The ETX board prices start well under $200 each in volume, including the CPU. Production quantities are available now.

The ETX and 3U/6U CompactPCI form-factor baseboards are currently available to support ETX designs. They are priced in single quantities at $299 and $399 respectively.

An ETX Development Kit, containing the ETX ZF Linux CPU, the base board, power supply, floppy, hard disk and CD-ROM drives, and all cables, documentation and utility software is available for $995 for the 3U form factor and $1,299 for the 6U form factor.

PCI automation Inc. develops and manufactures intelligent CPU and peripheral boards in the US and Germany for many platforms that provide precision control of robotic and automated equipment in the semiconductor, medical and industrial equipment markets as well as for ruggedized embedded OEM applications.

More from Optics & Photonics