Carpet Steam Cleaner targets hospitality industry.
Press Release Summary: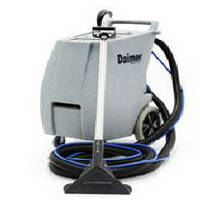 With pressure levels of 220 psi, water column lift of 150 in., and airflow of 200 cfm, XTreme Power® XPH-9300 manages maintenance of wall-to-wall carpeting, area carpets, carpeted stairs, and fabric upholstery. Inline heating element heats water to temperatures as high as 210°F within 5 minutes. Adjustable temperature control allows operator to adjust temperature based upon type or condition of carpets, while low flow technology minimizes water usage, enabling drying period of 2 hours.
---
Original Press Release:

Daimer Releases Carpet Cleaners For Steam Cleaner Tasks in the Hospitality Industry



WOBURN, MA, U.S.A – Daimer Industries, Inc.®, the world's best known brand of carpet cleaners, including portable carpet extractor machines, high-capacity commercial walk behind carpet cleaner systems, and industrial carpet shampooer equipment with hundreds of models made in the U.S.A. and sold to customers spread throughout 200 nations, is shipping the XTreme Power® XPH-9300 to the hospitality market.



High-powered carpet cleaning equipment is especially important for proper maintenance of the industry's most popular floor surface. The company's state-of-the-art machine is a highly advanced and feature-rich model, which is specifically intended for use within the most demanding hospitality environments.



"Hospitality settings such as hotels and resorts feature extensive carpeted areas and a large number of upholstered furniture. Maintaining these surfaces on a daily basis and eliminating dust, dirt and stains demand considerable time and effort for the cleaning staff," says Matthew Baratta, spokesman of Daimer Industries, Inc.®. "Daimer® is proud to offer in its XTreme Power® XPH-9300 powerful 220 psi flow offered in the best steam carpet cleaning machines. The model is designed to maximize the cleaning staff's productivity while cleaning more effectively than other carpet machine systems in the industry."



Daimer® XTreme Power® XPH-9300 machines are among the most innovative and reliable commercial carpet cleaners in their class. Although they cannot be classified under truck mount carpet cleaners, the mobility and ease of operation are truly unmatched due to their 25 feet hoses, enabling users to maintain a radius area of up to 2000 square feet without moving the machines.



Unfortunately, vacuuming merely extracts loose dust particles from carpets, but is totally ineffective in actually carpet cleaning. Vacuuming will not the eliminate stains and tough deposits. Consequently, about 57 percent of hotels and resorts in the U.S. feature dirt-laden carpets that may easily harbor allergens and bacteria, and pose a considerable threat to the health and comfort of guests. The solution lies in deep cleaning carpets and upholstery present in these environments.



Daimer®'s XTreme Power® XPH-9300 features a heavy-duty housing only the industry's best carpet cleaners would include. The machine is versatile enough to manage the maintenance of wall-to-wall carpeting, area carpets, carpeted stairs, and even among the dirtiest fabric upholstery using the system's optional upholstery tool. High pressure levels of 220 psi, a water column lift of 150 inch and airflow of 200 cfm offer superior cleaning power with ultra-fast drying times. Daimer®'s exclusive low flow technology reduces water usage, resulting in faster drying period of two hours. The XPH-9300 carpet cleaners are the perfect choice for maintaining hotels rooms, corridors, restaurants, and any other areas within hospitality facilities.



The XTreme Power® XPH-9300 high capacity carpet cleaning machines offer 60 percent greater suction, due to Daimer®'s patented Xtreme-XTraction™ wand technology. The company's carpet steam cleaners feature powerful inline heating elements that heat water to temperatures as high as 210º F within a fast five minutes. The model's convenient adjustable temperature control allow operators to adjust temperature based upon the type or condition of the carpets.



Importantly, users should disable heat when cleaning natural fibers, including wool, to prevent the risk of shrinkage or other damage. Eco-Green® Carpet Care & Upholstery Cleaner, which is bundled with every machine during the company's special promotion, is an excellent solution for natural and synthetic carpets. The liquid is plant-based, completely soap-free, and is extracted immediately when the system extracts. Carpets remain cleaner for longer periods of time. Conventional steam cleaners on the market feature harmful ingredients and soap, which attracts dirt quickly.



The XPH-9300's 17 gallon solution tank holds enough water to enable cleaning professionals to function non-stop for up to four times longer than other brands' models, and allow it to cover vast areas in the shortest time period. Daimer® guarantees the best of construction and quality in all its versions of carpet clean systems, truck mount carpet cleaners and carpet steam cleaners. The company's focus on exceptional components and parts ensure reliable performance, durability, and impeccable cleaning results.



The XTreme Power® XPH-9300 deep cleaning commercial carpet cleaners include everything necessary to clean carpets. In addition to the standard carpet cleaning wand and optional upholstery wand, customers can also place orders for an optional stair wand.



For Additional Information:

To obtain more details about the XTreme Power® XPH-9300, visit Daimer®'s website www.daimer.com/carpet-cleaning-machines/, or call Matthew Baratta at (888) 507-2220. The systems are marketed globally to most nations.



About Daimer Industries, Inc.®:

Daimer Industries, Inc.® is a highly reputable worldwide supplier of advanced cleaning systems. The company's wide product line features over 600 models of feature-rich commercial carpet cleaning machines, industrial grade truck mount carpet cleaning equipment, steam pressure washers, steam cleaners, carpet extractors, hard surface cleaning machines, and many more.



Contact:

Matthew Baratta, Daimer Industries, Inc.®

16 Tower Office Park,

Woburn, MA 01801

www.daimer.com

http://www.facebook.com/DaimerInc

http://twitter.com/daimer_inc

http://pinterest.com/daimerinc/

matt@daimer.com

(888) 507-2220



More from Packaging Products & Equipment