Carpet Extractors offer continuous flow recycling.
Press Release Summary: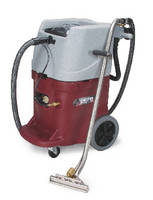 Suited for facilities implementing green cleaning systems and/or seeking LEED certification, CFR Carpet Extractors recycle and filter water/solution while removing soil from carpets and fabrics. Low-moisture atomization wand, which also has rollers to glide over carpets, eliminates strenuous pushing and pulling. Models include 10-gal Eco 500 with adjustable pressure to 500 psi; 17-gal Pro 750, adjustable to 750 psi; 13-gal Pro 500, adjustable to 500 psi; and 25-gal Cascade, adjustable to 400 psi.
---
Original Press Release:

CFR Backgrounder



Tacony Corporation Announces a New Generation of CFR Cleaner, Faster, Greener Carpet Extractors

Chicago, IL - A new generation of Tacony Corporation's CFR brand of carpet extractors, environmentally preferable carpet cleaning chemicals and accessories will be unveiled August 4, 2010.

CFR stands for Continuous Flow Recycling. Key to this new generation of CFR are its carpet extractors, which include the following:

o Eco 500, 10 gallon/adjustable 500 psi

o Pro 750, 17 gallon/adjustable 750 psi

o Pro 500, 13 gallon/adjustable 500 psi

o The Cascade 20, 25 gallon/adjustable 400 psi

Unlike conventional extractors that require solution and recovery tanks, these CFR systems recycle and filter the water/solution so that it can be used over and over, while still effectively removing soils from carpets and fabrics.

The process dramatically increases worker productivity because it eliminates as many as seven trips back and forth to empty and re-fill the machine.

The system also includes a very unique, patented, low-moisture atomization wand technology. This wand-which also has rollers to glide it over carpets, eliminating the strenuous pushing and pulling required by other wands - allow CFR units to collect as much as 50 percent more moisture than many conventional wands and extractors. The results: more thorough cleaning and rapid drying times.

The key benefits to users of both technologies:

o Cleaner carpets and fabrics with improved worker productivity

o Faster cleaning and drying times, along with dramatic increases in worker productivity

o Greener and much more sustainable carpet cleaning

In fact, because the CFR system uses approximately one-seventh the amount of water and chemical of conventional extractors, it is one of, if not the most sustainable carpet cleaning product lines available in the industry. The extractors are especially attractive to facilities implementing Green cleaning systems and/or seeking LEED certification.

Major office furniture companies often recommend the CFR system for cleaning or fabric-covered furniture and partitions. Not only is drying faster, but the CFR cleaning process is also much less likely to damage the shape of the fabric or, for fabric partitions, disconnect the fabric from its backing, thanks to patented technology.

The CFR system will be marketed by Tornado Industries, a Tacony company, and distributed by Tornado's network of distributors and manufacturer's reps around the country.

About CFR, a Tacony Company

CFR designs and manufactures a complete range of eco-friendly carpet cleaning systems and high-performance specialty tools with an innovative, patented technology that is radically different from other carpet cleaning systems. Continuous Flow Recycling (CFR) technology provides superior moisture-controlled cleaning, faster drying times, and increased cleaning productivity that is unmatched compared to standard carpet extractors on the market today. Through a state-of-the-art recycling filtration system, coupled with moisture-controlled atomization wand technology to minimize carpet moisture, CFR is the Greenest carpet cleaning system in the industry today.


More from HVAC