Carolina CoverTech is Now Manufacturing Disposable Isolation Gowns to Meet COVID-19 Demands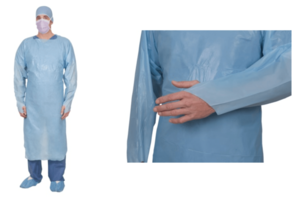 COVID-19 has had a profound effect on every industry—especially the medical industry. Dwindling PPE supplies, delayed shipments, the need for extra medical equipment and devices, and more have required hospitals and suppliers to change their focus to meet demand.
The PPE Supply Chain Impact
During the pandemic, the medical industry has experienced an unprecedented disruption to the supply chain. A lot of protective equipment and medical devices are made in China. When the virus forced the Chinese factories to shut down, the United States found itself without domestic manufacturers to fill the void—a void that has been felt deeply by health care workers everywhere.
The lack of disposable isolation gowns, respirators, gloves, and more has left health care heroes scrambling to protect themselves as they treat their patients. In response, the FDA has been working with FEMA to improve access to PPE and other equipment. This has included giving special permission for certain types of respirators to be used in the medical setting, relaxing regulations to allow better access to more equipment, and instructing manufacturers to repurpose their production lines to make ventilators, masks, disposable hospital isolation gowns, and more.
Some of that responsibility has fallen to local manufacturers, who have risen to the challenge of providing essential PPE for local health care facilities. It may seem overwhelming to repurpose a specially designed, smoothly operating facility, but the FDA offers advice for manufacturers who are ready to contribute, and many have been successful in manufacturing PPE.
Carolina CoverTech's Pivot to Disposable Isolation Gowns
Carolina CoverTech is proud to be one of the companies across the country that have stepped up to serve their local communities with PPE manufacturing. We never thought we'd become a disposable isolation gown supplier, but here we are! We've been in the business of covering, protecting, containing, and enclosing since 1858, so the opportunity to cover and protect our health care workers is a natural fit for us—we just didn't realize it until now.
For More Information Please Contact:
Andrew L. Keel 
Partner Development Specialist 
Carolina Covertech 
803-278-4141 Ext. 20 -- Office
andrew@carolinacovertech.com
www.carolinacovertech.com
More from Health, Medical, & Dental Supplies and Equipment