Carlon® Fittings enable installation from inside or outside.
Press Release Summary: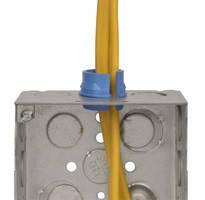 Available in ½ in. gray and ¾ in. blue color coded, Carlon® Fittings come with 20-ounce tamper proof plastic packing. Meeting UL and CSA standards, units are non-metallic fittings suitable for electrical boxes. Enabling easy installation, fittings prevent movements within knockout.
---
Original Press Release:
Carlon® Fittings Install from Inside or Outside of Electrical Box
New T&B Product Packaged in Reusable Plastic Containers
Carlon® fittings from Thomas & Betts (T&B), a member of the ABB Group, are among the only non-metallic fittings for electrical boxes that can be installed from either the inside or outside of the box.
The new Carlon fittings are UL® Listed and CSA™ certified, and are certified for one or two sheathed cables. Two sheathed cables may be inserted through the fittings either together or one at a time. They are color coded for easy identification: ½-inch size is gray, ¾-inch size is blue.
"Carlon fittings snap easily into knockouts without the need for tools, and hold sheathed cable snugly to prevent movement within the knockout," said Ralph Donati, product marketing director at T&B. "The contractors who tested them found that enabling installation from the inside or the outside made them easy to use."
In addition to electrical supply distributors, Carlon fittings are available from retail outlets for homeowners and small electrical contractors. Carlon fittings are packaged in reusable, 20-ounce plastic containers that feature tamper-proof lids, shrink seals and grip indentations on the back. The containers are clearly labeled and can be stacked for display.
For more information about Carlon Fittings, please visit www.tnb.com and select Carlon on the "Brands" tab, or call (800) 238-5000.
Thomas & Betts Corporation, a member of the ABB Group, is a global leader in the design, manufacture and marketing of essential components used to manage the connection, distribution, transmission and reliability of electrical power in utility, industrial, commercial, and residential applications. With a portfolio of more than 200,000 products marketed under more than 45 premium brand names, Thomas & Betts products are found wherever electricity is used. Thomas & Betts' headquarters are in Memphis, Tenn. For more information, please visit www.tnb.com.
Contact This Company Download Spec Sheet
More from Fluid & Gas Flow Equipment