Carlo Gavazzi Computing Solutions Offers Customized VME Designs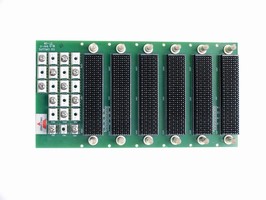 Engineering Expertise in Standard, Hybrid and Custom VMEbus Structures

Brockton, Mass. - Carlo Gavazzi Computing Solutions, an innovative leader in electronic packaging and system expansion solutions, has now completed well over one thousand customized orders for VME users in the industrial, military and aerospace markets. Well-versed in legacy and emerging VITA specifications, from VME32 through VPX, engineers at Carlo Gavazzi Computing Solutions work closely with each VME user to develop or retrofit a system geared to maximum performance for their unique applications.

Customized and hybrid VME systems provide a cost-effective solution to a VME user's evolving technologies and applications. Through product evolutions and change in applications, users have the ability to migrate their technology into the latest VITA standards, or a custom derivative, to meet the challenges of increased throughput and performance demanded in today's system requirements. As a user upgrades to higher speed, higher power and/or customized cards, an upgrade to a more fitting VMEbus structure allows the new hardware to operate at its optimal levels. A customized or hybrid adaptation also enables the latest VME technology to be deployed in new applications, such as land, air and sea military environments where older bus structures may have limited performance in the past.

Leveraging more than 25 years experience of designing VITA architectures, the company designs and deploys backplanes, including its ruggedized VPX Ruggedized Enhanced Design Implementation (REDI) backplane, and VME Switched Serial (VXS) switch fabric backplanes. In addition to VME backplane solutions, Carlo Gavazzi Computing Solutions also has a foundation in more than 30 years designing customized system enclosures to fit any application.

For more information on customized VME systems from Carlo Gavazzi Computing Solutions, visit gavazzi-computing.com/products/backplanes.php?Technology=VME.

About Carlo Gavazzi Computing Solutions

Based in Brockton, Mass., Carlo Gavazzi Computing Solutions is an innovative leader in system architecture for computing platforms. The company engineers solutions for the military, industrial and telecom industries and offers core product lines in electronic packaging, serial I/O and system expansion. All products are manufactured in the United States and comply with VITA, PICMG and PCI-SIG standards.

Carlo Gavazzi Computing Solutions is a sister company of Carlo Gavazzi Automation Components and a wholly-owned subsidiary of Carlo Gavazzi AG, a publicly-traded, global electronics group. For more information on Carlo Gavazzi Computing Solutions, visit www.gavazzi-computing.com, call 1.800.926.8722 or write to [email protected].