Card Reader prevents all known forms of skimming.
Press Release Summary: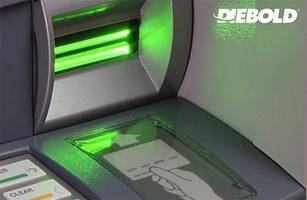 By shifting card insertion 90°, ActivEdge™ prevents capture of ATM users' card data. Design requires users to insert cards into reader via long edge instead of traditional short edge. Addressing concerns related to skimming, trapping, and fishing attacks, EMV-compliant product mitigates 4 primary attack vectors: external skimming, internal skimming, USB sniffing, and device substitution. Also, encrypted technology inhibits criminal modifications to card reader.
---
Original Press Release:

Diebold Stops ATM Fraudsters In Their Tracks with World's Most Secure Anti-Skimming Card Reader



ActivEdge(TM) prevents all known forms of skimming by shifting card insertion 90 degrees



NORTH CANTON, Ohio -- Skimmers beware. Diebold, Incorporated (NYSE: DBD) is thwarting criminals' ability to capture automated teller machine (ATM) users' card data with its new ActivEdge(TM) card reader. The industry's first complete anti-skimming card reader prevents all known forms of skimming - the most prevalent type of ATM crime - as well as other forms of ATM fraud. ActivEdge can help financial institutions avoid skimming-related fraud losses which, according to the ATM Industry Association, total more than $2 billion annually worldwide.



ActivEdge approaches skimming from a different angle, literally, by requiring users to insert cards into the reader via the long edge, instead of the traditional short edge. By shifting a card's angle 90 degrees, ActivEdge prevents all modern skimming devices from reading the card's full magnetic stripe, eliminating the devices' ability to steal card data.



"Card fraud at the ATM is a serious and prevalent crime that leads to significant losses. ActivEdge will be a game changer in our industry's fight to protect consumer data," said Andy W. Mattes, Diebold president and chief executive officer. "In addition to our recent acquisition of Cryptera and the formation of the ATM Security Association, ActivEdge is yet another step forward in Diebold's ongoing efforts to increase ATM security."



Diebold's usability research confirms that consumers support financial institutions' use of ActivEdge. Of consumers who participated in Diebold's study, 95 percent preferred ActivEdge over current readers for its enhanced security and did not mind changing their card insertion behaviors for more secure transactions. Consumers inserted their cards correctly on the first attempt, or were able to quickly determine the proper way to insert the card.



Diebold's patent pending ActivEdge card reader addresses a comprehensive set of concerns related to skimming, trapping and fishing attacks. ActivEdge prevents known skimming-related fraud by mitigating criminals' four primary attack vectors: external skimming, internal skimming, USB sniffing and device substitution. ActivEdge's encrypted technology inhibits criminal modifications to the card reader. Its encrypted communication to the ATM's central processing unit eliminates the ability to fraudulently capture and track data. In addition, each reader is paired with a specific ATM, precluding the installation of fraudulent readers.



To counteract card trapping and fishing attacks, ActivEdge features automatic gate-locking functionality, which prevents fraudsters from freeing trapped cards. Such attacks have surged, with European ATM Security Team (EAST) reporting that card trapping incidents in Europe rose 98 percent from 2,726 attacks in 2012 to 5,394 attacks in 2013.



ActivEdge is EMV compliant and is available as an option on most new Diebold ATMs. It can also be retrofitted to a variety of existing Diebold ATMs.



"ActivEdge subtly alters the ATM card user experience, while greatly shifting the balance of power in the fight against ATM crime," said Frank Natoli Jr., executive vice president and chief innovation officer, Diebold. "Altering the card orientation has crippling consequences for skimming devices. With ActivEdge, financial institutions will be able to stay ahead of today's sophisticated devices and fraud attacks."



About Diebold

Diebold, Incorporated (NYSE: DBD) is a global leader in providing innovative self-service technology, security systems and related services. Diebold has approximately 16,000 employees worldwide and is headquartered near Canton, Ohio, USA. Visit Diebold at www.diebold.com or on Twitter: http://twitter.com/DieboldInc.



Video - https://www.youtube.com/watch?v=t8UZMD5KMQY&feature=youtu.be



CONTACT: Media Relations, Kelly Piero, +1-330-490-3741, kelly.piero@diebold.com; or Investor Relations, Jamie Finefrock, +1-330-490-6319, jamie.finefrock@diebold.com

More from Materials