Card Reader mates vertically on PCB.
Press Release Summary: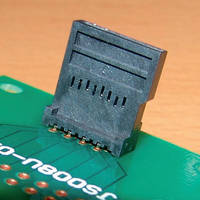 Model PJS008U-3000-0 manual microSD Card reader mates at 90° angle to PCB and is security fixed with positioning pins and DIP connection. Requiring 4.97 x 12 mm of space, product features gold-plated contacts that support 10,000 mating cycles. Unit is also protected against external impact and supports applications such as wireless communications and portable computers.
---
Original Press Release:

New microSD Card Reader for Vertical Mating Position



Munich - Yamaichi Electronics offers a new manual microSD Card reader PJS008U-3000-0.

The manufacturer enlarge their wide range of microSD Card readers with a new version for vertical insertion and extraction, i.e. in the 90° angle to the PCB. The PJS008U-3000-0 is a manual microSD Card reader for all microSD Cards in compliance with the specification of the microSD Card standard. The positioning pins and the DIP connection to the PCB ensure the secure fixing of the card reader on the PCB. Thus the PJS008U-3000-0 is as stable as the horizontal microSD Card readers and has all the same attributes as the 180° version.

An advantage of the vertical assembly is the small space requirement of only 4.97mm x 12mm (W x L). It establishes completely new design options in the course of the miniaturisation of many state-of-the-art equipment.

Due to the contact design and gold plated contacts 10,000 mating cycles are assured. The insulation body is out of LCP and encloses completely the microSD Card thus giving additional protection against external impacts.

In summary the PJS008U-3000-0 provides the full functionality of a versatile and all-purpose microSD Card reader together with the advantages of a vertical PCB assembly. The card reader is supplied in trays for fully automated pick and place assembly.

This Flash memory card component supports applications like wireless communication, portable computer, end-consumer and others.

Yamaichi Electronics do not only offer this vertical assembly microSD Card component but also a wide range of card connectors for all available Flash and SIM card standards, e.g. miniSD, MMCmicro, CompactFlash, xD Card etc. Several multicard versions are also available.

More technical details, electrical specifications and further products for a wide range of other applications can be found under www.yamaichi.eu or directly in the data sheet www.yamaichi.de/pdf/c_pjs008u-3000.pdf or in the catalogue "Connectors & Sockets 2009" which can be ordered on the website.

For any product queries please write to: info@yamaichi.de

About Yamaichi Electronics

Yamaichi is a market leader for test & burn-in sockets, connectors and connection systems - areas in which reliability and function safety are essential for the success of the whole project. Yamaichi has established itself very quickly on the world market as a manufacturer of high-quality and reliable components for ambitious applications in the following sectors: photovoltaic, automotive, medical, telecommunications infrastructure, industrial automation, mobile computer technology, mobile telephones, GPS systems, printers, digital cameras, camcorders, as well as electronic devices in the retail trade, industry and electronics.

Yamaichi Electronics Deutschland GmbH

Karl-Schmid-Str. 9, 81829 München, Germany

Tel. +49 (0)89 - 4 51 09-0

Fax: +49 (0)89 - 4 51 09-110

www.yamaichi.eu

Related