Card enables VoIP communications for intercoms.
Press Release Summary: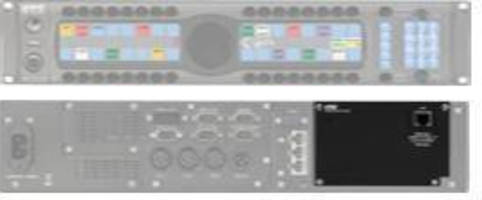 Supporting VoIP for RTS Matrix Intercoms, RVON-2 VoIP card for CLD Color Keypanels features dual-channel design and allows connection of CLD keypanels to Intercom matrix over standard IP networks. It offers ability to connect to matrix through RVON or directly from keypanel. Configurable through keypanel service menu and AZedit configuration software, unit is compatible with various international standards and G.711, G.729A, and G.723 protocols.
---
Original Press Release:

RTS Intercom Systems Introduces RVON-2 VoIP Card for CLD Color Keypanels at NAB 2009, Booth #C7025



February 14, 2009, Las Vegas, NV RTS is proud to introduce the RVON-2 VoIP card for CLD Color Keypanels.

Installed directly into CLD keypanels, the RVON-2 provides seamless VoIP (Voice over Internet Protocol) communications for the RTS Matrix Intercom family. The RVON-2 delivers an integrated solution for connecting CLD keypanels to the Intercom matrix over standard IP networks.

"RVON-2 brings all the benefits of VoIP to the state-of-the-art CLD color keypanel series." explains Christian Latzelsberger, Senior Product Manager for RTS Intercoms Worldwide.

The RVON-2 features a dual-channel design that gives the user two channels of audio running from the RVON card, and as well as the ability connect to the matrix either through RVON or directly from the keypanel. This flexibility ensures that the RVON-connected CLD keypanel will fit easily into any network configuration.

The RVON-2 is completely compatible with any RTS Matrix Intercom System equipped with a suitable RVON VoIP interface. In conjunction with the CLD keypanel, the RVON-2 brings a new level of enterprise-wide and remote access functionality to your RTS Matrix Intercom.

The card is configurable through the keypanel service menu and the AZedit configuration software. It is also fully compatible with internationally recognized standards and supports the following protocols: G.711, G.729A, and G.723 (2 bit rates).

RVON-2 reaffirms RTS' commitment of providing the latest technology in a fully supported backward compatible manner to all its products.

For more information, visit RTS at NAB 2009 Booth #C7025.

Media Contact Information

Bryan Wilkins

Bosch Security Systems, Inc.

Communication Systems Division

Business Development Specialist

(ST-CO/PRM2.1)

12000 Portland Ave South

Burnsville, Minnesota 55337

USA

www.boschcommunications.com

Tel: +1 (952) 736-4558

Fax: +1 (952) 887-9157

Bryan.Wilkins@us.bosch.com

Bosch Communications Systems-a business unit of Bosch Security Systems-is one of the world's leading manufacturers and suppliers of professional audio, wireless, life safety and communication equipment. Bosch Communications Systems offers complete system solutions for the world's most critical, high-profile installations and events.
Additional information can be accessed at www.boschcommunications.com

The Bosch Group is a leading global supplier of technology and services. In the areas of automotive and industrial technology, consumer goods, and building technology, some 271,000 associates generated sales of 46.3 billion euros in fiscal 2007. The Bosch Group comprises Robert Bosch GmbH and its more than 300 subsidiaries and regional companies in roughly 50 countries. This worldwide development, manufacturing, and sales network is the foundation for further growth. Each year, Bosch spends more than 3 billion euros for research and development, and applies for over 3,000 patents worldwide. The company was set up in Stuttgart in 1886 by Robert Bosch (1861-1942) as "Workshop for Precision Mechanics and Electrical Engineering."

The special ownership structure of Robert Bosch GmbH guarantees the entrepreneurial freedom of the Bosch Group, making it possible for the company to plan over the long term and to undertake significant up-front investments in the safeguarding of its future. Ninety-two percent of the share capital of Robert Bosch GmbH is held by Robert Bosch Stiftung GmbH, a charitable foundation. The majority of voting rights are held by Robert Bosch Industrietreuhand KG, an industrial trust. The entrepreneurial ownership functions are carried out by the trust. The remaining shares are held by the Bosch family and by Robert Bosch GmbH.

Additional information can be accessed at www.bosch.com

More from Laboratory and Research Supplies and Equipment