Card Edge Connectors feature double-contact-point pin design.
Press Release Summary: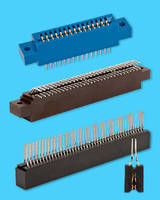 Comprised of 0.100, 0.125, and 0.156 in. contact centerline parts, RDPS Series is engineered to accept 0.062 in. thick daughtercards. Double-contact-point pin design coupled with material rating of -65 to +150°C helps extend life in mission-critical electronic systems and end products. Double-row parts feature current rating of 3 A per contact, and are provided in 6-70 contact positions. Units offer choice of dip solder, wire wrap, right angle bend, and card extender terminations.
---
Original Press Release:

Sullins Connector Solutions Announces Ruggedized Double Point Series of Card Edge Connectors



High Temperature Devices' Double-Contact-Point Pin Design Promote Long Life in Mission-Critical Electronic Systems and End Products

San Marcos, CA, May 1, 2009...Sullins Connector Solutions, Inc., a leader in the design and manufacture of RoHS-compliant board level interconnect products, today released the full RDPS Series (Ruggedized Double Point Series) of card edge connectors optimized for superior durability in high-temperature, harsh environment applications.

The RDPS Series is engineered to accept 0.062" (1.58 mm) thick daughtercards and is comprised of 0.100" (2.54 mm), 0.125" (3.18 mm), and 0.156" (3.96 mm) contact centerline parts. Notably, the parts' double-contact-point pin design promotes sturdier daughtercard retention than traditional card edge connectors. This unique pin design, coupled with the series' material rating of from -65 degrees C to +150 degrees C, helps ensure high mating cycles, and long life for electronic systems and end products. The robust series also affords engineers the utmost in design flexibility as devices are supplied in dip solder, wire wrap, right angle bend, and card extender terminations, as well as with a choice of post lengths. Available mounting styles include clearance holes, threaded inserts, side mounting, and with/without mounting ears. Materials are UL94V-0 rated.

Sullins' RDPS Series may be confidently specified to connect high-density PC boards to 0.062" daughtercards in a wide range of industrial, consumer, and commercial systems and end products which need be resistant to vibration, drop shock, and short-circuits involving printed tracks on the PC board. Due to their durable double-contact-point pin construction and high-temperature rating, connectors are ideally suited for use in test and burn-in oven facilities, power converters, power suppliers, electronic component testing, communications equipment, medical equipment instrumentation, and automotive applications.

The double-row parts feature a current rating of 3 Amp per contact, and are provided in 6-70 contact positions (12 -140 pins). Rated to withstand +150 degrees C continual heat, parts' processing temperature range is up to 260 degrees C peak for 120 seconds. Insulator material options are PBT, PA9T, or PPS. Connectors are supplied standard with 10 microinch or 30 microinch selective gold plated phosphor bronze or BeCu (beryllium-copper) contacts to facilitate high-reliability soldering. They also feature a fully-insulated 50 microinch nickel underplate. Additional specifications include an insulation resistance of 5,000 megohms minimum at 125 VDC, and a 16-ounce maximum insertion force and a 1-ounce minimum withdrawal force per contact pair. Contact resistance is 30 milliohm maximum. Parts rated to +175 degrees C, and those requiring customization, may be special ordered. For complete specifications regarding operating, processing, temperature and material options for Sullins' RDPS Series, contact techsupport@sullinscorp.com.

While firm pricing is determined depending on customers' specification, typical prices for Sullins' 6-position/12 pin RDPS card edge connectors start at $2.16 each in quantities of 1,000. Delivery is 5 days ARO.

About Sullins Connector Solutions

Headquartered in San Marcos, CA, Sullins Connector Solutions, Inc. (www.sullinscorp.com) has been a world leader in the design, engineering, and manufacturing of high-quality edge cards and headers since 1971. The Company provides the industry's widest selection of UL/CUL approved edgecards, and additionally offers product development services together with engineering support. Sullins' edgecards, headers, bi-level and CompactPCI connectors are widely specified for use in mission-critical applications by a broad spectrum of leading industrial, commercial, military and consumer products manufacturers. Sullins' connectors and interconnect systems are available through a global network of sales representatives and distributors.

More from Communication Systems & Equipment