Card Connectors facilitate smooth microSD ejection.
Press Release Summary: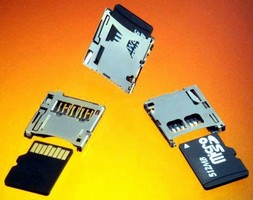 Available in 2 profile heights, microSD card connectors address card fly-out and sticking problems with spring-style card ejection systems in mobile and compact devices. Low-profile height (.060 in.), normal mount connector includes 2 brake tabs that help slow down card ejection without putting any friction on card. Along with internal housing features, .071 in. high normal and reverse mount microSD connectors combine brake tab and spring setting features for smooth card extraction.
---
Original Press Release:

New microSD Card Connectors from Molex Help Control Card Ejection in Compact Mobile Devices



LISLE, Ill. - August 14, 2008 - Molex Incorporated (NASDAQ: MOLX and MOLXA) introduces a new series of microSD card connectors that offer additional features to help control card ejection in mobile and compact devices. Designed for microSD, the world's smallest memory card storage system, Molex's microSD card connectors are available in two profile heights to address card fly-out and card sticking problems that can occur with spring-style card ejection systems.

1.53mm (.060") low-profile height Normal Mount microSD Connector:

Provides approximately 15 percent vertical space savings compared to 1.80mm (.071") industry standard height types.
Includes two brake tabs that assist in slowing down card ejection without putting any friction on the card. Brake tabs work with other internal housing features to help control card ejection speed.

1.80mm (.071") height Normal and Reverse Mount microSD Connectors:

Controls card ejection speed in normal mount versions through internal housing features. The reverse mount style combines various brake tab, spring setting and housing features to achieve smooth card extraction.
Include a rib wall to protect the terminal tips from damage during card insertion, as well as smoothly beveled terminals for further protection.
Use card polarization feature to prevent improper mating - stopping a card inserted improperly from making contact with the detect switch.

All versions of Molex's microSD connectors include a detect terminal to assure card detection. This detect terminal makes contact with the switch terminal, which provides a wiping function for good electrical contact.

All are also rated at 0.5A and 10V and include metal shielding for ESD protection. Terminals are gold plated for secure contact and good repeat cycling. They come in embossed tape packaging, with wide space on the shell for vacuum pick-and-place. Open areas are also designed into the shell to allow for visible checking of solder tail joints.

For additional information on Molex's full range of microSD card connectors, visit: http://www.molex.com/product/memory/microsd.html

More from Packaging Products & Equipment