Carbon Steel Basket Strainer replaces metal-alloy models.
Press Release Summary: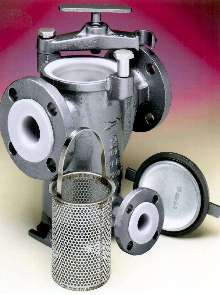 Model 72L heavy-duty, simplex basket strainer has continuous, 1/8 in. thick, chemically inert Tefzel® protective liner that resists abrasion and corrosion. All wetted surfaces of carbon steel strainer body are completely isolated from process media. Designed to remove particulate matter from process flow, strainer provides protection for sensitive system components and is available in sizes for 1-6 in. pipelines.
---
Original Press Release:

Rugged Tefzel®-Lined Basket Strainer Replaces Costly Metal-Alloy Models


In applications where carbon or even stainless steel will be attacked by the process media, an alternative to expensive metal alloy basket strainers is now available. The new Model 72L Strainer from Hayward Industrial Products, Inc. is a heavy-duty, carbon steel simplex basket strainer that has a protective liner constructed of Tefzel®, a material that has outstanding chemical inertness and superior mechanical strength.

Not just a thin surface coating, the Model 72L strainer has a continuous 1/8-inch thick, abrasion- and corrosion-resistant liner. Even the cover is lined, not coated. This means that all wetted surfaces of the carbon steel strainer body are completely isolated from the process media. Designed to remove particulate matter from the process flow, this type of strainer provides cost-effective protection for sensitive system components such as flow meters, pumps and instrumentation, improving system reliability and reducing downtime.

Baskets for the new strainers are also coated with Tefzel or, alternatively, baskets of Hastelloy C, Monel or Titanium and be specified if the application requires. And, baskets are available in a wide range of perforation and mesh sizes to meet the requirements of all applications.

Tefzel is a fluoropolymer, inert to strong mineral acids, inorganic bases, halogens and metal salt solutions. Even chemical such as carboxylic acids ketones, aldehydes and polymer solvents have little effect. Application temperatures can range up to 300°F in many instances, and the lining displays excellent mechanical strength when handling abrasive slurries. Applications for the Hayward Model 72 Tefzel Lined Simplex Strainer include waste water treatment, paper mills, hazardous materials, flue gas systems, ultra pure water handling, chemical and petrochemical processing.

The Model 72L Simplex Strainer from Hayward is available in sizes for 1" through 6" pipelines. They have 150# flanged connections and a Viton® seal. All sizes come standard with quick-opening, yoke-style covers for quick and easy strainer basket cleaning and replacement.

For more information, contact Don Treslar, Hayward Industrial Products, Inc., 900 Fairmont Ave., Elizabeth, NJ 07207. Phone: 908-351-5400 Extension. 2213. Fax: 908-351-7893. E-mail: industrial@haywardnet.com. Website: haywardindustrial.com

More from Electrical Equipment & Systems