Carbon Filters come in 1, 2, and 4 in. thicknesses.
Press Release Summary: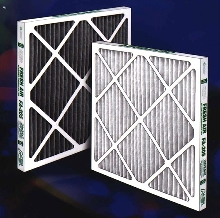 Fresh Air Filters have 30 to 35% MERV 8 prefilter layer, followed by layer of activated carbon media containing 200 grams per square meter. Carbon media is sealed in sleeve of spun bonded synthetic scrim to prevent dusting. Combination media is completely self-supporting and requires no metal backing. MERV 8 efficiency rating means filters achieve minimum of 70 to 85% efficiency on 3 to 10 micron particles as determined by ASHRAE 52.2 Test Method.
---
Original Press Release:
Airguard Introduces New "Fresh Air" Activated Carbon Filter

LOUISVILLE, KY - Airguard has announced a completely redesigned
combination particulate / activated carbon filter for light to moderate odor and gas control problems.

"Fresh Air" filters have a 30-35%, MERV 8 prefilter layer followed by a layer of activated carbon media containing 200 grams per square meter. The carbon media is sealed in a sleeve of spun bonded synthetic scrim to prevent carbon dusting. The combination media is completely self-supporting and requires no metal backing to shape the pleats.

A MERV 8 efficiency rating means the filters achieve a minimum of 70-85% efficiency on 3-10 micron particles as determined by the ASHRAE 52.2 Test Method.

The activated carbon is highly effective at removing common odors
such as diesel exhaust, asphalt fumes, burned food, cooking odors, new carpet, paint, wallpaper solvents, tobacco smoke and many more.

"Fresh Air" filters are available in popular sizes of 1", 2" and 4" thicknesses.

For additional information on Fresh Air activated carbon filters, contact Airguard, P.O. Box 32578 Louisville, KY 40232. Phone: 502/969-2304; Fax: 502/961-0930; Email: mailbag@airguard.com Ask for Bulletin IAQ-291.

FOR ADDITIONAL INFORMATION, CONTACT:

Gary Heilmann, Director of Marketing

AIRGUARD

P.O. Box 32578

Louisville, KY 40232

Phone: 502/969-2304

Fax: 502/961-0930

Email: gheilmann@airguard.com
More from Laboratory and Research Supplies and Equipment