Carbide Milling Cutters handle wide range of material groups.
Press Release Summary: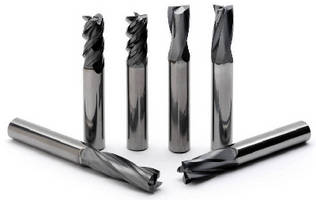 Available in sizes from 1/8 to 1 in., Jabro-Solid² Cutters suit general machining applications across range of materials, including carbon steels, gray cast iron, stainless steels, and super alloys in both wet and dry applications. Square shoulder mills come in 2-, 3-, and 4-flute models for side milling and/or slotting. Offered in 3- and 4-flute designs, JS550 Series features double-core technology for added stability. Both families are finished with proprietary Siron-A coating.
---
Original Press Release:

Seco Displays Jabro-Solid2 Cutters at IMTS for High Performance Across Material Groups



Troy, Mich., - Visit Seco in booth #W-1564 to see how your company can achieve economy through production performance with Seco's new Jabro-Solid2 (Solid Square) carbide milling cutters available in sizes from 1/8" to 1". These easy-to-use and versatile square shoulder mills are optimized to provide the best price/performance ratio in general machining applications across a wide range of material groups from carbon steels to gray cast iron to stainless and super alloys in both wet and dry applications. Benefits include reduced inventory, lower cost per cutter, lower cost per part and fewer tool changes.

"With this new solid carbide endmill range," said Bill Bogue, Seco Jabro Product Manager, "We can now offer the Jabro quality and performance long experienced in niche-type applications to any shop that is looking to remove lots of material quickly -- be it mold & die, aerospace, medical, power generation, any industry."

Seco is offering the Solid2 in a JS510 easy-to-use series for all basic operations in steel, stainless, and cast irons and available in 2- 3-, and 4-flute cutters for side milling and/or slotting. This series features an increased core diameter allowing larger cuts for reduced cycle times and costs.

Also available is a higher performance JS550 series featuring double-core technology for added stability and reduced tool deflection, thus enabling higher cutting data. This series is available in 3- and 4-flute designs for slotting and side milling as well as featuring a differential pitch design for chatter-free machining. Both families are finished with a proprietary Siron-A coating and special edge preparation for smooth chip flow and longer tool life.

This new Jabro line extends Seco's comprehensive offering for shoulder mill needs in both indexable and solid offerings. To find out more how you can simplify your tooling needs while gaining both versatility and performance, visit www.secotools.com/wps/portal/corp/Epi_2580 or contact Seco Tools at (248) 528-5200, secotools.us@secotools.com

Seco Tools Inc. is part of the Seco Tools AB global organization, a world leader in metalworking technologies, providing solutions for milling, turning, holemaking and threading applications. The company is committed to solving its customers' ever-increasing demands for greater productivity, quality and cost-effectiveness. Seco Tools Inc. offers its full range of cutting tools and related technologies through a network of more than 250 authorized distributors in the United States, Canada and Mexico.

Company:

Seco Tools Inc.

2805 Bellingham Drive

Troy Michigan 48083

Web: http://www.secotools.com/us

Tel: (248) 528-5200

Fax: (248) 528-5600

E-mail: secotools.us@secotools.com

More from Material Handling & Storage