Carbide End Mills cut ferrous, high temperature, and titanium alloys.
Press Release Summary: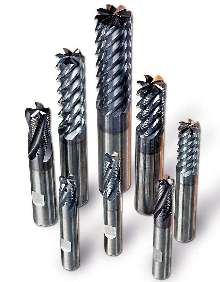 Multi-layer TiAlN/TiN/TiAlN-coated carbide grade KC633M offers resistance to wear and deformation when rough machining ferrous materials and high-temperature alloys. Multi-layer TiN/TiCN/TiC-coated grade KC625M is suited for non-ferrous materials, while KC635M TiAlN-coated material suits high-temperature alloys. Other grades include KP525M powdered-metal material, KH110M uncoated steel grade with 8% cobalt content and heat treatment process, and diamond-coated KDF300.
---
Original Press Release:
Kennametal Expands Solid Carbide End Milling Line with New High Performance Grades
Latrobe, Pennsylvania, USA (October 16, 2002) -- Kennametal has expanded its solid carbide end mill line with five new high-performance milling grades that offer productivity gains in steels, tool steels, cast irons, high temperature alloys, and other materials. "Existing end milling grades have also been improved with a new fine-grain carbide substrate, resulting in significant improvements in tool life," said Mark White, Product Specialist for Kennametal. The five new grades include KC633M, KC625M, KC635M, KP525M, and KH110M. KC633M is a multilayer TiAlN/TiN/TiAlN coated carbide that offers higher resistance to wear and deformation, making it possible to perform rough machining operations on a wide range of ferrous materials and high temperature alloys at higher speeds than ever before. KC625M is a multilayer TiN/TiCN/TiC coated grade with a low coefficient of friction for better chip flow. "It provides excellent performance on nonferrous materials," White said. KC635M is a TiAlN coated material that offers high hardness and the ability to operate at high temperatures, making it ideal for machining high temperature alloys. KP525M is a powdered metal material that provides 20% to 60% increases in chipload over conventional high-speed steel end mills. "The increase in chipload is higher for larger diameter cutters because of their greater core strength," White said. KH110M is an uncoated high-speed steel grade with 8% cobalt content and a special heat treatment process that makes it ideal for cutting titanium alloys. Kennametal has also improved existing grades in its solid carbide end milling line with the new substrate. K600 is an uncoated carbide grade that provides excellent wear resistance. KC610M is a multilayer TiN/TiCN/TiN coated carbide that can provide three times the tool life of conventional uncoated carbide end mills over a very wide range of materials, making it an ideal general-purpose grade. KDF300 is a diamond-coated material that provides the ultimate in high-speed machining performance, especially in non-ferrous materials where it offers speeds two to three times higher than coated carbides and tool life up to 50 times higher than conventional carbides. The new solid carbide end milling line will also offer a series of cutters designed to deliver maximum performance for certain specific cutting tasks. One new end mill offered in grade KC633M features a special core design for increased rigidity in cutting die and mold steels up to 60 Rc hardness. Another new end mill designed for cutting aluminum provides a high helix angle for optimized chip evacuation and a cylindrical margin for better surface finish in grades K600 or KC625M. Designed specially for cutting stainless steel and high temperature alloys, grade KC635M has a special helix angle optimized for freer cutting and a unique chip geometry to maximize chip evacuation during plunge cutting. For more details on solid carbide end mills and other Kennametal metalcutting products, please call 800-446-7738 or visit www.kennametal.com
More from Electronic Components & Devices