Carbide Drills incorporate HP point geometry.
Press Release Summary: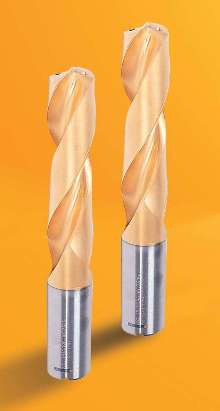 Models SE210HP, SE211HP, and SE212HP in grade KC7515 feature free-cutting, high positive rake angle and sculptured edge drill geometry. Points are coated with titanium nitride using physical vapor deposition process. Drills handle range of materials, including common steels, stainless steels, and high temperature alloys. Metric sizes range from 4-21 mm dia, and inch sizes range from 0.1563 to 1.010 in. in lengths of 3, 5, and 7 times hole diameter.
---
Original Press Release:

New Kennametal Carbide Drills Provide 40% Productivity Gains in Carbon Steel


(Latrobe, Pennsylvania, U.S.A.; November 14, 2003) -- Kennametal has announced a new line of high performance carbide drills that provide 40% productivity gains in carbon steels under 28 Rockwell C and 30% gains in stainless steel compared to the top competitive grades. New SE210HP, SE211HP, and SE212HP drills in grade KC7515 feature a special free-cutting high positive rake angle and a patented sculptured edge drill geometry that cuts faster because it avoids the deformation produced by other drills. The points of the new drills are coated with titanium nitride using an advanced physical vapor deposition (PVD) process. This means they are capable of machining at surface speeds well above competitive carbide drills or will provide tool life two to three times greater than competitive carbide drills when used at the same cutting conditions. "We have seen dramatic improvements in productivity, either through higher cutting speeds or reduced tool-change downtime, on every application we have tested these new drills on," said Allen Poponick, Product Manager for Kennametal. "For example, a customer recently reduced drilling costs from $180 per part to $61 per part in one application and from $61 per part to $20 per part in another."

SE210HP, SE211HP, and SE212HP drills incorporate the patent-pending HP point geometry, providing 20% lower thrust than conventional drills as well as a straight cutting edge that promotes even wear across the drill face. The new drills are offered in Grade KC7515, which has a multilayer advanced PVD coating, increasing hot hardness and drill surface smoothness and enabling substantially higher cutting speeds. These drills handle a wide range of materials, including common steels, stainless steels, and high temperature alloys, at a substantial reduction in cost per hole. A typical example is provided by an 8.5 mm drilling application on 304 stainless steel at 270 surface feet per minute (SFM) and 0.007 inches per revolution (ipr). Four competitive grades tested on the applications provided between 700 and 1000 linear inches before failing. SE210HP drills provided 2200 linear inches, better than twice the competitive performance. In a wide range of other applications, the new produce offering has consistently provided two to three times the linear inches of the top competitive grades.

SE210HP, SE211HP, and SE212HP drills are available in metric sizes from 4 mm to 21 mm diameter and inch sizes from 0.1563 inches to 1.010 inches in lengths of 3, 5, and 7 times the hole diameter. The geometry of the new drills reduces cutting forces to the extent that users of high-speed steel drills who have avoided converting to carbide because of thrust issues, or users of other carbide drills that are taxing Z-thrust limits, can now make major productivity gains. Self-centering capability and superior rigidity of the new drills prevents the drill from wandering or walking at the beginning of the cut. As a result, these drills produce very consistent, concentric holes. To guarantee optimum repeat performance, the new SE210HP, SE211HP, and SE212HP drills should be reconditioned by the Kennametal Reconditioning Service. The service offers like new quality, 5 to 7 calendar day turnaround on coated standard Kennametal and competitive solid carbide drills, and the Blue Box, a secure, delivery-paid container.

For more information about these and other Kennametal products, call 800-446-7738 or visit www.kennametal.com

More from Communication Systems & Equipment