Carbide Blades cut solid surface materials.
Press Release Summary: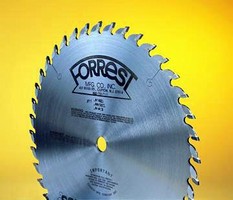 Producing smooth sides for glue joints, Solid-Surface Planers cut through dense and abrasive non-porous surfacing material without leaving chips/scratches. Abrasive-resistant carbide teeth have specially engineered clearances that eliminate chipping and side scoring. Table saw blades with 20° face hook come in sizes from 7¼ to 16 in. dia with 40 teeth, while overhead and radial saw blades with 10° face hook have 8-18 in. dia with 60 teeth. Blades fit saws with 5/8 to 1 in. arbors.
---
Original Press Release:

Forrest Manufacturing's Solid Surface Planer Cuts Solid Surface Materials



Special Design and High-Quality Grinding Ensure Super Smooth, Chip- and Scratch-Free Cuts

CLIFTON, New Jersey, May 20, 2008 - Forrest Manufacturing announced today an outstanding cutting solution for woodworkers and cabinetmakers who work with solid surface materials. Forrest's Solid-Surface Planer cuts through especially dense and abrasive, non-porous surfacing material without leaving chips or scratches. "The Solid Surface Planer produces extra smooth sides that are ready for perfect glue joints, substantially reducing finishing time," says Jay Forrest, vice president, Forrest Manufacturing.

The Solid Surface Planer's super durable, abrasive-resistant carbide teeth have specially engineered clearances to eliminate chipping and side scoring. They also have a 50 to 300 percent longer life between sharpenings, further increasing
efficiency and reducing costs.

Designing a Super-Durable Blade
Forrest Manufacturing was one of the first manufacturers to introduce a blade in the 1980s specially designed to address the challenges of cutting Corian®, Avonite®, and other solid surfacing materials. Composed of acrylic resins and other materials - including natural minerals derived from bauxite, an ore from which aluminum is extracted - solid surfacing has numerous applications, from countertops, to wall cladding to sinks. However, solid surface materials are notoriously difficult to cut and quickly wear down blades so they have to be sharpened more frequently.

Jim Forrest, president of Forrest Manufacturing, designed the first Solid Surface Planer in response to requests from customers. The original blade featured a modified triple chip design similar to that used on Forrest's Thin Rim and No-Melt blades. Further experimentation with different cutting edges by Jim Forrest's son, Jim, led to the current design for the Solid Surface Planer. It has an alternate top bevel with raker, meaning the top edge of each tooth is alternately angled, with every fifth tooth having a flat top. The blade also features a 20° face hook, or forward angle on the teeth, to ensure a better cut and easier feed.

Blade Specifications
"It's not only the design of the Solid Surface Planer's teeth that ensures top performance, but also the high quality grind that they receive during manufacturing, as well as during in-factory resharpening. Proper sharpening creates the fine edge required for smooth cutting," explains Jay Forrest. Also, like all Forrest blades, the Solid Surface Planer is hand straightened to further enhance performance.

Solid Surface Planers are available in standard and metric sizes from 7 ¼- to 16-inch diameters with 40 teeth for table saws and in eight- to 18-inch diameters with 60 teeth for radial and overhead saw applications. The blades fit saws with 5/8- to one-inch arbors. ustom center holes are available. While the table saw blades come with a 20° face hook, the overhead and radial saw blades have a 10° face hook.

Cutting Solid-Surface Materials
"The steeper the face hook, the easier it is to cut," explains Jay Forrest. "However, cutting becomes dangerous if there's too much hook because of the way the blade grabs the material." Forrest advises saw operators to find the correct feed rate for cutting solid surface materials. "If you cut too fast, you get a rougher cut. If you cut too slowly, friction builds up and creates heat which can cause the solid surface material to melt and produce a blackened edge." Forrest also advises saw operators to use a dampener disk with the Solid Surface Planer to eliminate any vibration that could interfere with the smoothness of the cut, to wear a dust mask to avoid inhaling any resins or chemicals, and to always use caution when cutting solid surface material. "It takes more effort to cut solid surface material than wood," he says. Solid Surface Planers are not designed to be used with granite, quartzite, cement or other solid materials that require a diamond grit wheel for cutting.

About Forrest Manufacturing
For over 60 years, Forrest Manufacturing has been supplying high-quality saw
blades to discriminating craftsmen. Made in America, Forrest blades are available direct from the factory or from fine-quality dealers, retailers, and catalogs. Every blade carries a full-refund, 30-day guarantee.

For more information about Forrest Manufacturing's saw blades and other products, visit www.ForrestBlades.com.

Forrest Manufacturing Company
457 River Road
Clifton, NJ 07014
973-473-5236

Contact:
Jay Forrest,
Vice President
973-473-5236

More from Machinery & Machining Tools